Optical Tables range in size up to 6 x 16 ft.
Press Release Summary: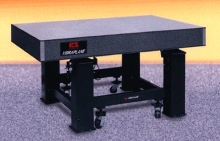 Optical Tables provide flat, stiff, highly damped surface with high natural frequency. OPTIPLANE(TM) table is designed for critical research applications; LABPLANE(TM) suits precision laboratory procedures; VALUPLANE(TM) is for nominal to low vibration applications; and ECONOPLANE(TM) is for minimal vibration environments and has thin top skin. Tabletops have honeycomb core and sealed mounting holes to protect core from spills.
---
Original Press Release:
High Performance Optical Tables

BOSTON, MA - Kinetic Systems, Inc., announces the availability of its complete line of High Performance Optical Tables, Support Systems, Breadboards, and Accessories.

Through a dedicated effort to produce the highest performing optical vibration control products anywhere, KSI now offers customers its full line of Large Optical Tables with the industry's best performance characteristics. These Large Optical Tables are constructed to exacting standards and consistently
provide users a flat, stiff, highly damped surface with high natural frequency. KSI tables exceed the performance levels of competitive models in comparable categories for both Maximum Dynamic Deflection and Maximum Relative Motion. KSI standard Large Optical Tables range in size up to 6' x 16', with larger sizes available on request.

Four performance levels assure that the user gets the right table for the right application and doesn't pay for unneeded technology. The OPTIPLANE(TM) is the top of the line, a very high performance table designed for critical research applications. The LABPLANE(TM) is designed for precision laboratory procedures, the VALUPLANE(TM) is a utility model designed for applications where vibration is nominal to low, and the ECONOPLANE(TM) is designed for minimal to low vibration environments but has a thinner top skin.

Tabletops are designed with a honeycomb core and feature Kinetic Systems' proprietary SPILLPRUF(TM) design. Entire rows of mounting holes are sealed to protect the honeycomb core from accidental spills from liquid-dye lasers, coffee, soft drinks, etc. Further benefits of the SPILLPRUF design are increased
rigidity and better thermal conductivity.

KSI Optical Tables can be customized for a variety of applications. In addition to special lengths, widths, shapes, cutouts, and notches, there are numerous options for the table's core and skin materials, including aluminum, nonmagnetic stainless steel, and Invar. A large laser can be mounted on a special shelf beneath the tabletop so that a laser beam can be directed to the work surface through an optional port. Accessories include shelves, tabletop enclosures, retractable casters, and modular butt splices for joining tables.

Kinetic Systems, Inc., is a leader in the design, manufacture, and marketing of vibration isolation equipment, optical tables, and related accessories for use in a wide range of industries worldwide, including research and development, quality control, laboratories, and semiconductor manufacturing. For more information, contact John Bacevic, Jr., Director Marketing/Sales, Kinetic Systems, Inc., 20 Arboretum Road, Boston, MA 02131, TEL: (617) 522-8700, FAX: (617) 522-6323,
www.kineticsystems.com


More from Electrical Equipment & Systems