Optical Switch has over 10 million cycle rotational life.
Press Release Summary: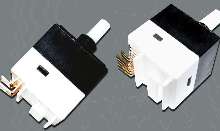 With no mechanical contacts, E50 all-optical encoder uses IR LEDs for signal generation and proprietary magnetic system for indexing. Various shapes on coding rotor mask create different keying sequences, enabling product to output 2 unique pulse trains 90° apart. Encoder, available in 24 or 32 pulses per channel per rotation versions, is offered in switching torques of 1.5, 1.3, .6, and .45 Ncm. Encoder shaft comes in 6 mm or ¼ in. sizes.
---
Original Press Release:
Optical Switch from Elma Has Rotational Life Of Over 10 Million Cycles

FREMONT, California, Dec 1, 2004 - Elma Electronic, a leading designer and manufacturer of rotary components and electronic packaging products, announces an all-optical encoder that lasts (virtually) forever. With no mechanical contacts, this all-optical encoder uses infrared LEDs for signal generation, and a proprietary magnetic system for indexing. This prevents the wear-and-tear breakdown common in standard encoders, and enables the E50 to boast a rotational life of over 10 million rotations. These rugged switches are used in military, medical, industrial, and other mission-critical applications where long rotational life and precision signal generation are critical.

The E50 encoder utilizes an LED system to shine light through a coding rotor mask. With various shapes on the mask creating different keying sequences, the E50 outputs 2 unique pulse trains 90 degrees apart. The encoder is available in 24 or 32 pulses per channel per rotation versions. The E50 is offered in 4 standard switching torques of 1.5, 1.3, .6 and .45 Ncm.

The indexing system is unique in that it utilizes magnets for positive positioning, not mechanical parts. This patented magnetic indexing system negates the standard wear and performance degradation that one finds in other encoders. The integrated pushbutton on the E50 also features an all-optical signal generation system. The only mechanical part on the E50 is a spring that returns the pushbutton to its resting, extended position. With the pushbutton out, the LED light reflects on an optical sensor at a wide angle. When the button is pushed in, this angle sharpens and the light misses the sensor, so the switch is turned on and becomes conductive.

The E50 optical encoder's output termination is a standard 0.1" male header accepting a standard socket connector. The encoder shaft comes in 6mm or ¼" sizes standard. Customized versions of the E50 line are optional.

For more information on Elma's switches, knobs, and custom design services, please contact Mark Thorsell at 510-656-5829 x228.

About Elma Electronic

Elma Electronic Inc. is a leading manufacturer and supplier of enclosures, backplanes, cabinets, cases, and "ready-to-run" packaging for CPCI, Rugged COTS, VME/64x, VXI, PC and custom bus structures. Elma's component product line offers a wide selection of top quality switches knobs and LED arrays. The company has been a worldwide supplier of dependable, high performance products for over 35 years. Elma operates three facilities in the continental United States plus has locations in Switzerland, Germany, France, the United Kingdom and Israel.

Elma Electronic Inc. is located at 44350 Grimmer Blvd., Fremont, CA 94538 USA. Telephone (510) 656-3400 - Fax (510) 656-3783. www.elma.com
More from Fluid & Gas Flow Equipment