Optical Surface Profiler suits automated HB-LED production QA/QC.
Press Release Summary: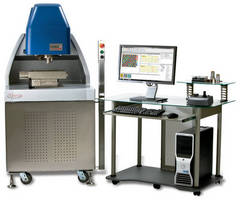 ContourGT(TM)-X8 PSS is optimized for characterizing high-brightness light emitting diode (HB-LED) patterned sapphire substrates (PSS). Combination of non-contact 3D measurement capabilities with Veeco PSS metrology hardware and software technology, as well as Wafer Automation System Developer's Kit (SDK) provides tailored solution for PSS QA/QC applications requiring high throughput and repeatability. TCP/IP-based remote control capabilities are also standard.
---
Original Press Release:

Veeco Introduces Precision Optical Profiler for Automated HB-LED Production QA/QC



ContourGT-X8 PSS: Tailored Surface Metrology Solution for Patterned Sapphire Substrates

Tucson - At the SEMICON West trade show in San Francisco next week, Veeco Instruments Inc. (Nasdaq: VECO), a leading global provider of precision instrumentation and metrology solutions for scientific and industrial markets, will announce a new ContourGT(TM) Optical Surface Profiler configuration optimized for characterizing high-brightness light-emitting diode (HB-LED) patterned sapphire substrates (PSS). The ContourGT-X8 PSS combines advanced non-contact 3D measurement capabilities with unique Veeco PSS metrology hardware and software technology, and a Wafer Automation System Developer's Kit (SDK) that provides a tailored solution for PSS quality assurance and quality control applications where high-throughput and repeatability capabilities are essential.

"With the rapid growth of PSS as a vital technology for enhancing efficiency and ensuring color consistency in HB-LEDs, measuring their feature size and consistency on sapphire wafers is becoming a critical step in HB-LED manufacturing," said Mark R. Munch, Ph.D., Executive Vice President, Veeco Metrology & Instrumentation. "Now, the ContourGT-X8 PSS gives wafer suppliers and HB-LED device manufacturers an affordable way to obtain high-throughput, 3D surface metrology to enhance productivity, while assuring the quality of their end products."

Ross Q. Smith, Vice President and General Manager, Veeco Optical Industrial Metrology, added, "We have worked closely with PSS wafer suppliers and HB-LED manufacturers to develop the ContourGT-X8 PSS, ensuring that it has the full breadth of capabilities necessary to deliver the required measurements. In addition, we have teamed with leading wafer automation providers such as CHAD Industries to develop a compelling value proposition for HB-LED manufacturers who often need flexibility in automation solutions. We expect the ContourGT-X8 PSS to become the industry standard as a simple-to-operate, 7/24, high-performance PSS surface metrology solution."

About the ContourGT-X8 PSS
The ContourGT-X8 PSS is a special configuration of Veeco's ContourGT-X8, the flagship of the ContourGT Family, which includes a range of profilers designed to meet the requirements and budgets for every type of production and R&D precision surface metrology application. Sold in conjunction with the ContourtGT-X8 Wafer Automation SDK, it features patent pending PSS metrology hardware and software and TCP/IP-based remote control capabilities. These features, combined with the ContourGT-X8's patented dual HB-LED illumination and continuous calibration, enable the system to be readily integrated with automated wafer handlers to provide top PSS measurement precision, throughput and gauge repeatability and reproducibility.

See the ContourGT-X8 PSS at SEMICON West July 13 - 15
CHAD Industries and Veeco will be conducting technology demonstrations of the ContourGT-X8 PSS integrated with a CHAD WaferMate200-2 Workcell at SEMICON West (CHAD Industries Booth [No. 5251] in the North Hall). For more information or to schedule a demo, please visit www.veeco.com/ContourGT, email metrologyinfo@veeco.com, or call +1 (520) 741-1044.

About Veeco
Veeco Instruments, Inc. designs, manufactures, markets and services enabling solutions for customers in the HB-LED, solar, data storage, semiconductor, scientific research and industrial markets. We have leading technology positions in our three businesses: LED & Solar Process Equipment, Data Storage Process Equipment, and Metrology Instruments. Veeco's product development, marketing, engineering and manufacturing facilities are located in New York, New Jersey, California, Colorado, Arizona, Massachusetts and Minnesota. Global sales and service offices are located throughout the U.S., Europe, Japan and Asia Pacific. www.veeco.com

More from Electronic Components & Devices