Optical Spectrum Analyzer serves lab, manufacturing environments.
Press Release Summary: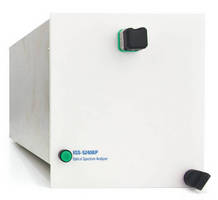 Optical Spectrum Analyzer (OSA) test module, IQS-5240S/B-P, is available for Windows®-based IQS-600 platform, which provides optical, transport, and datacom testing. EXFO OSNR measurement approach lets users achieve accurate in-band OSNR measurements of ROADM or 40 Gbps system. Additional functionality gives users ability to analyze WDMs and EDFAs, measure drift and spectral transmittance, and control DFB lasers from remote location via Ethernet or GPIB using provided SCPI commands.
---
Original Press Release:

EXFO Introduces Fully Featured Optical Spectrum Analyzer for Lab and Manufacturing Environments



New IQS-5240S/B-P OSA brings all the proven hardware and software features of the industry-leading FTB-5240S/B-P to lab researchers and network equipment manufacturers

QUEBEC CITY, CANADA - EXFO Inc. (NASDAQ: EXFO, TSX: EXF) announced today the addition of the IQS-5240S/B-P Optical Spectrum Analyzer test module to its Windows-based IQS-600 platform, the only modular system providing optical, transport and datacom testing in a single environment.

Today's complex systems and networks rely on new technologies such as reconfigurable add-drop multiplexers (ROADM) and transmit at speeds reaching 40G and 100G. In such a challenging technological context, getting reliable in-band OSNR values is critical. This is why the IQS-5240S/B-P OSA features EXFO's unique OSNR measurement approach, which enables lab researchers and technicians to achieve accurate in-band OSNR measurements of a ROADM or 40 Gbit/s system.

To meet lab and manufacturing testing needs, the IQS-5240S/B-P also offers the flexibility to analyze WDMs and EDFAs, to measure drift and spectral transmittance, and to easily control DFB lasers from a remote location via Ethernet or GPIB using provided SCPI commands. In addition, the IQS-5240S/B-P delivers fast, accurate scans and speeds up testing without compromising on dynamic range or resolution bandwidth. In fact, EXFO's IQS-5240S/B-P OSAs can complete a scan and display the results in less than one second, making it the perfect solution to accelerate testing time and increase efficiency.

"EXFO has been providing its customers with advanced optical spectrum analysis expertise for many years. Now, with the introduction of the IQS-5240S/B-P on the IQS-600 platform, we can leverage industry-leading OSA technology and deliver a reliable, proven test solution to lab researchers and manufacturers," said Étienne Gagnon, EXFO's Vice-President of Product Management and Marketing. "What's more, when combined with transport and datacom test modules-such as the IQS-8140 Transport Blazer and IQS-8130NGE Power Blazer-inside the IQS-600 platform, customers get the perfect transceiver and system testing solution."

Visit our website for more on the IQS-5240S/B-P Optical Spectrum Analyzer and the IQS-600 platform.

About EXFO
Listed on the NASDAQ and TSX stock exchanges, EXFO is among the leading providers of next-generation test and service assurance solutions for wireline and wireless network operators and equipment manufacturers in the global telecommunications industry. The company offers innovative solutions for the development, installation, management and maintenance of converged, IP fixed and mobile networks-from the core to the edge. Key technologies supported include 3G, 4G/LTE, IMS, Ethernet, OTN, FTTx, and various optical technologies (accounting for an estimated 35% of the portable fiber-optic test market). EXFO has a staff of approximately 1800 people in 25 countries, supporting more than 2000 telecom customers worldwide. For more information, visit www.EXFO.com.

EXFO Brand Name
The corporate name of the company is EXFO Inc. The company requests that all media outlets and publications use the corporate name ("EXFO Inc.") or abbreviated name ("EXFO") in capital letters for branding purposes. EXFO would like to thank all parties in advance for their cooperation.

For more information
Marie-Anne Grondin
Media and Public Relations Specialist
(418) 683-0913, Ext. 23417
marie-anne.grondin@EXFO.com

Vance Oliver
Manager, Investor Relations
(418) 683-0913, Ext. 23733
vance.oliver@EXFO.com

More from Optics & Photonics