Optical Spectrometer analyzes light in 1-300 nm range.
Press Release Summary: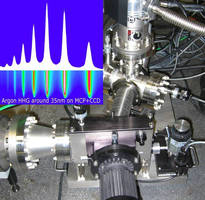 Model 248/130 grazing incidence wavelength dispersive optical spectrometer is suited for spectroscopy in vacuum ultraviolet and extreme and soft-x-ray wavelength region. When configured in reverse, it operates as tunable light source. Using direct detection CCDs, gated image intensifiers, or fast channel electron multipliers for detection, it provides wide working range and flexibility in spectral acquisition. Adapters, differential pumping, and grazing incidence collection optics are optional.
---
Original Press Release:

Not Just a XUV HHG Spectrometer



McPherson's 248/130 grazing incidence wavelength dispersive optical spectrometer allows rapid analysis of spectral light in the ~1 to 300nm wavelength region (4 to ~1200eV.) This instrument is a useful tool for spectroscopy in the vacuum ultraviolet and also the extreme and soft-x-ray wavelength region. Using direct detection CCDs, gated image intensifiers, or fast channel electron multipliers for detection, it provides wide working range and flexibility in spectral acquisition.

The instruments are completely assembled, vacuum leak checked, and calibrated with respect to wavelength. They can include adapters, differential pumping, and grazing incidence collection optics to more easily connect to the experiment. Every shipment is complete with a wavelength calibration certification. For the user, this facilitates rapid identification of closely spaced high harmonics. The McPherson 248/310 spectrometer is not just for laser applications. Space scientists and plasma physicists who need a ready instrument for vacuum ultraviolet, EUV, and XUV also capitalize on the McPherson 248/310 spectrometers range and flexibility. Configured in reverse, it operates as a tunable light source. Vacuum ultraviolet spectroscopy accessories including various detectors systems and wavelength calibration sources are available from <1nm to the Visible.

McPherson, Inc. (Chelmsford, MA USA) manufactures a variety of instruments that measure and tune specific wavelengths of light for many disciplines of spectroscopy. The company is proud of its ongoing role in building and delivering research instrumentation to domestic and international leading laboratories for research in plasma physics, magnetic and inertial confinement fusion. For more information about our instruments and custom manufacturing capabilities to suit your specific needs visit McPhersonInc.com or call 1-978-256-4512 today.

For more information contact:

Erik Schoeffel

McPhersonInc.com

7A Stuart Road, Chelmsford MA 01824-4107 USA

Telephone 978-256-4512, Fax 978-250-8625, Email MCP@McPhersonInc.com