Vision and Imaging Sensors / Detectors
Optical Sensors are qualified to AEC Q101 standard.
Press Release Summary: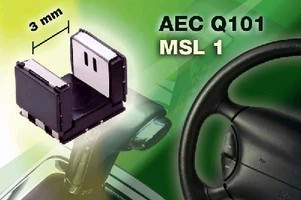 Featuring Moisture Sensitivity Level rating of 1, single-channel Model TCPT1300X01 has 0.3 mm aperture and 3.0 mm gap, while dual-channel Model TCUT1300X01 features two 0.3 mm apertures and 3.0 mm gap. Both surface mount, transmissive units provide phototransistor output and operate at wavelength of 950 nm. With temperature range of -40 to +85°C, sensors are RoHS-compliant, free of halogens, compatible with lead-free soldering, and have unlimited floor life.
---
Original Press Release:

New 950-nm Surface-Mount Transmissive Optical Sensors for the Automotive Market are Industry's First With AEC Q101



Qualification and MSL 1 Moisture Rating

MALVERN, PENNSYLVANIA May 30, 2007 Vishay Intertechnology, Inc. (NYSE: VSH) is broadening its optoelectronics portfolio with the introduction of the industrys first transmissive (interrupter) optical sensors qualified to the AEC Q101 standard, a reliability test qualification procedure for discrete semiconductors published by the Automotive Electronics Council.

Additionally, the TCPT1300X01 and TCUT1300X01 transmissive sensors are the industrys first with a Moisture Sensitivity Level rating of 1 (MSL1), which means they have an unlimited floor life.

The new sensors offer a wide operating temperature range of -40°C to +85°C, enabling them to work in low- and high-temperature environments. With a 3.0-mm gap width, the sensors can be used with a wide variety of materials and allow for looser mechanical tolerances than sensors with smaller gaps, making them ideal for automotive and industrial applications. The TCPT1300X01 and TCUT1300X01 sensors are RoHS-compliant, free of halogens, and compatible with lead (Pb)-free soldering.

Transmissive sensors are also known as interrupter sensors. They contain an infrared emitter and detector mounted facing each other and are separated by a small gap. An object such as an encoding wheel passes through the gap between the emitter and detector and interrupts the light, allowing the sensor to detect the presence or absence of an object. A common automotive switch application is gear shift position detection.

The TCPT1300X01 is a single channel transmissive sensor with an aperture of 0.3mm and a gap of 3.0mm. The TCUT1300X01 is a dual channel transmissive sensor with two apertures (two detectors) of 0.3mm and a gap of 3.0mm. Both sensors have a phototransistor output and operate at a wavelength of 950nm.

The TCPT1300X01 and TCUT1300X01 can be used with an encoding wheel to sense rotary position and velocity, or with a linear code strip to sense linear position and velocity. With dual channels, the TCUT1300X01 can also be used to detect direction and is commonly used for steering wheel optical encoding. For example, en electronic stability control system relies on the critical output of speed, position, and direction of the steering wheel, as determined by the encoder, to help drivers on icy or wet roads. In electric power steering (EPS), the transmissive sensor plays a role in providing steering wheel speed, position, and direction as inputs to a larger system using an assist motor to replace the traditional hydraulic power steering pump.

The MSL-1 rating of the TCPT1300X01 and TCUT1300X01 is important for automotive and industrial manufacturers. Typical optical devices, like visible LEDs, have an MSL4 rating and must be assembled within 72 hours of opening the reel packaging. If not used in 72 hours, the component will absorb moisture and require baking for up to 96 hours to drive that moisture out. With an MSL1 rating, the TCPT1300X01 and TCUT1300X01 have an unlimited floor life that eliminates the need for special handling by the customer.

The TCPT1300X01 and TCUT1300X01 are lead (Pb)-free and in accordance with RoHS 2002/95/EC and WEEE 2002/96/EC. Samples are available now. Production orders have a lead time of six weeks. Pricing for U.S. delivery in quantities of 6000 units is $0.60 per unit.

Vishay Intertechnology, Inc., a Fortune 1,000 Company listed on the NYSE (VSH), is one of the world's largest manufacturers of discrete semiconductors (diodes, rectifiers, transistors, and optoelectronics and selected ICs) and passive electronic components (resistors, capacitors, inductors, sensors, and transducers). These components are used in virtually all types of electronic devices and equipment, in the industrial, computing, automotive, consumer, telecommunications, military, aerospace, and medical markets. Its product innovations, successful acquisition strategy, and ability to provide "one-stop shop" service have made Vishay a global industry leader. Vishay can be found on the Internet at www.vishay.com.

Worldwide Reader Contact: Vishay Intertechnology, Inc.
info@vishay.com
www.vishay.com
Samples: +1 (619) 336-0860

More from Test & Measurement