Optical Receivers improve link sensitivity by 3 dB or more.
Press Release Summary: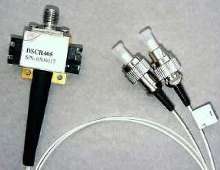 Models DSCR405 and DSCR405ER are 15 dB InGaAs balanced photoreceivers for wavelengths from 800 to 1,650 nm with over 14 and 20 GHz bandwidths, respectively. They are targeted at digital telecommunications markets using 10 and 20 Gbps with FEC and RZ formats. Units feature small form-factor fiber-pigtailed package that is hermetically sealed and built to GR-468 standards.
---
Original Press Release:

DSCR405 & DSCR405ER: Balanced Photoreceivers with 14 or 20 GHz Bandwidth


Balanced optical receivers manufactured by Discovery Semiconductors Inc. have been demonstrated to improve link sensitivity by 3 dB or more in applications such as DPSK, differential phase shift keying, and DQPSK, differential quadrature phase shift keying. In DPSK detection the phase of the optical signal is compared with a one bit delayed version of bit stream after passing through an optical interlever. The advantage versus OOK modulation lies in the 100% duty cycle possible with balanced detection.

Discovery offers two InGaAs balanced receivers with bandwidths of 14 and 20 GHz, the models DSCR405 and DSCR405ER respectively. These are targeted at digital telecommunications markets using 10 and 20 Gbps with FEC and RZ formats.

For further information on the applications for balanced optical receivers, visit their web site, www.chipsat.com, press on the link for PDF application notes on the lower left side, register with your email address and download 'Applications of Balanced Optical Receivers'. For quotations on a balanced optical receiver for your application, please contact Discovery at sales@chipsat.com or call 609-434-1311 or fax 609-434-1317

About Discovery Semiconductors, Inc.
Discovery is a privately held US company that leads the world in production of ultra-wide bandwidth microwave photonic modules, including its latest products for 60, 65 and 70 GHz bandwidths. The company is recognized as one of NJ's fastest growing companies for the third year in the row and winner of the Small Business Administration's (SBA) Ronald Tibbets award for successful commercialization of contract research. Discovery continues to innovate; developing balanced optical receivers, optical receiver/microwave transmitter modules for wireless LMDS and wide bandwidth 2-micron wavelength optical receivers. Its products serve 4 market segments: Military, Fiber Optic Telecommunications, high bit-rate Wireless Communications and Custom Developments.

More from Architectural & Civil Engineering Products