Dimensional Measurement & Inspection Probes
Optical Process Probe integrates sapphire window.
Press Release Summary: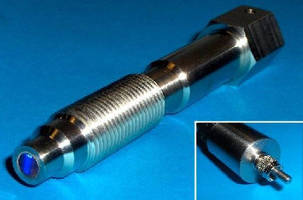 Transmission probe SWOPP03C has polished sapphire lens sealed into 316 stainless steel body, offering chemically inert, abrasion-resistant interface to material under test. Along with 2,040°C melting point and 0.17-5.5 micron optical transmission range, sapphire is trigonal crystal of aluminum oxide that has Young's Modulus of 330 GPa and shear modulus of circa 150 GPa. Probe comes with 600 micron internal glass fiber and permits measurements at pressures to 10,000 psi and 400°C.
---
Original Press Release:

SWOPP03C Sapphire Window Optical Process Probe



The SWOPP03C Sapphire Window Optical Process Probe, from Celsum Technologies, is a robust transmission probe with a 600 micron internal glass fibre and a SMA 905 standard optical connector.

Sapphire is a trigonal crystal of aluminium oxide (Al2O3), an extremely hard, inert and abrasion resistant material with a melting point of about 2,040°C (3,700°F), and an optical transmission range from 0.17 to 5.5 microns. It has a Young's Modulus of around 330 GPa, and a shear modulus of circa 150 GPa. It is an ideal material for allowing, literally, a window for advanced analysis technologies into the world of in-process materials. Processes such as injection moulding, batch mixing and extrusion, as well as transfer pipelines and storage vessels, can be fitted with ports to allow the use of SWOPP probes.

The SWOPP03C probe has an extended profile, to be compatible with earlier generations of probe, and has a polished sapphire lens sealed into the type 316 stainless steel body, to give an essentially chemically inert, abrasion resistant interface to the material under test. The integral SMA 905 connector allows the probe to be screwed into the transducer port on the processing line before connection to the fibre optic cables, thus easing in-service removal and insertion into existing installations.

A pair of SWOPP03C Transmission Probes allows on-line, real-time analysis of a wide range of in-process materials using techniques such as FTIR, NIR, UV and visible spectrometry. The SWOPP03C and SWOPP01, which allows a standard 1/8" fibre optic bundle to be mounted in a fixed process probe, permit measurements at pressures to 700 bars (10,000psi) and 400°C . The probes fit an industry-standard "Dynisco" type transducer port, with a ½"-20-UNF thread and 45° sealing face. Also available are diffusion probes, and customised geometries and materials such as 17-4PH stainless steel.

Roy Carter, Managing Director of Celsum Technologies, said, "This latest addition to our SWOPP range of optical process probes permits, with the optimum choice of spectrometer, real-time analysis of the processed materials for quality control and, with utilization of feedback signals, optimization of the process control parameters to minimise material and energy usage. Additive levels may be monitored, moisture content and degradation products can all be monitored with the SWOPP probe at the real conditions of temperature and processes encountered during processing. Of course, the SWOPP probes are valuable too in research, development and pilot plant operations, and in a wide range of industries, including pharmaceutical, food, chemical, plastics and rubbers."

Roy E Carter MSc CEng FIM3
Managing Director
Celsum Technologies Ltd
The Innovation Centre
De Montfort University
49 Oxford Street
Leicester LE1 5XY
United Kingdom
Tel: +44-(0)116 207 8807
Fax: +44-(0)870 120 9370
Email: roy@celsum.com
Web: www.celsum.com

This Company is Registered in England and Wales, Number 4769781 VAT No GB 812879604
Registered Office: As Above

Celsum Technologies Ltd is a Member of the Plastics Consultancy Network, Leading Advanced Technology Initiative (LATI), and MediLink East Midlands

Related