Optical Positioning System controls material handling vehicles.
Press Release Summary: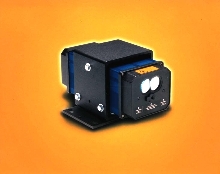 ICS 5000 controls most industrial vehicles, such as overhead and AS/RS cranes, in warehouse, manufacturing, and storage facilities. It uses infrared distance measuring technology and microprocessor-based control system to reduce move times by 30 to 50% compared to other positioning systems. Final positioning is accurate, with system decelerating vehicle to desired destination without hunting or creeping.
---
Original Press Release:

Trimble's Positioning System for Material Handling Applications Dramatically Increases Productivity


SUNNYVALE, Calif., Dec. 12, 2001 - Trimble (NASDAQ:TRMB) introduced today a new version of its ICS 5000 optical positioning system for material handling applications. The distance meter based industrial positioning system, which now offers increased productivity of 30 percent or more, is capable of controlling virtually any industrial vehicle in a warehouse, manufacturing or storage facility faster and more accurately.

Utilizing advanced infrared distance measuring technology, integrated with a state-of-the-art microprocessor-based control interface, the ICS 5000 provides exceptionally fast move times, highly precise positioning and quick installation. These features contribute to significantly increased system throughput within a variety of industries including food, manufacturing, computer, consumer goods, automotive and aerospace.

The optimized move profile created by the ICS 5000, results in drastically reduced move times that are typically 30-50 percent lower than other positioning systems. "The ICS 5000 enables industrial vehicles such as overhead or AS/RS cranes to follow their optimal move profiles. Final positioning is exact, with the ICS 5000 decelerating the vehicle to the desired destination without hunting or creeping. In comparison, other systems take much longer to get to a destination because they use a multiple speeds control deceleration and a creep speed for final positioning," said David Larsson, Trimble's manager of Factory Automation. "Our positioning technology is unique in this industry because it integrates the feedback device and the positioning controller into one unit. This integration allows us to utilize an extremely sophisticated motion control approach, and that translates into shorter move times with less engineering effort."

The ICS 5000 is designed for operation in rugged industrial environments and can be easily installed on bridge cranes, AS/RS cranes, elevators, transfer cars, plating line hoists, and other warehousing vehicles. Programming the station setup is easy. A look-up table of destinations, referred to as Station Locations, can be stored within the ICS 5000 to simplify communications. Velocity, acceleration and positioning tolerance can be altered at any time during operation without affecting positioning.

Designed with a wide range of control options, the ICS 5000 can easily be adapted to virtually any application. It can be configured for one of three control algorithms ranging from Self Learning Closed loop (PID) to Distance Feedback only. The ICS 5000 is also easy to integrate, offering compatibility with a large array of motor drives and a variety of communication protocols including its new DeviceNet option, ASCII, Profibus-DP, Modbus, INTERBUS and DF1.

The trouble-free ICS 5000 has no mechanical parts to wear out and is totally sealed and washable. The ruggedly designed system is extremely shock and vibration tolerant as well as resistant to electromagnetic interference (EMI). It comes with an optical laser pointer, enabling fast alignment. The ICS 5000 optical positioning system is available now through Trimble's distribution network.

About Trimble
Trimble is a leading innovator of Global Positioning System (GPS) technology. In addition to providing advanced GPS components, Trimble augments GPS with other positioning technologies as well as wireless communications and software to create complete customer solutions. Trimble's worldwide presence and unique capabilities position the Company for growth in emerging applications including surveying, automobile navigation, machine guidance, asset tracking, wireless platforms, and telecommunications infrastructure. Founded in 1978 and headquartered in Sunnyvale, Calif., Trimble has more than 2,000 employees in more than 20 countries worldwide.


More from Electrical Equipment & Systems