Optical Micrometer measures ultra-small targets.
Press Release Summary: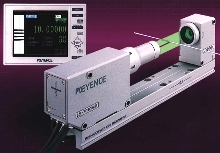 LS-7010 CCD optical micrometer measures targets as small as 0.04 mm with accuracy of +/- 0.5 µm and repeatability of +/-0.06 µm. Measuring range is 0.04 to 6 mm. Measuring head uses no motor or rotating prism, and generates no heat or vibration. High-intensity, low-noise, GaN 520 nm LED light source and HL-CCD provide measurement speed and accuracy. Sampling rate is 2400 samples/sec.
---
Original Press Release:

New "Super-Fine" Optical Micrometer Measures Ultra-Small Targets


The new Keyence LS-7010 CCD Optical Micrometer measures targets as small as 0.04 mm (0.0016") with an accuracy of ± 0.5 µm (0.02 Mil) and a repeatability of + 0.06 µm (0.0024 Mil). Half the size of other optical micrometers, the compact LS-7010 measuring head is only 9" long. The measuring range is 0.04 mm to 6 mm.

The LS-7010 is designed for specialized, precision applications such as the diameter measurement of: ultra-fine optical fibers, high-precision miniature drills, miniature optical fiber connector ferrules, control of catheter diameter during extrusion and a broad range of small parts and components. One model includes a CMOS camera in the receiver head which images the target area on the Target Viewer monitor. The Target Viewer enables users to quickly and accurately position the target in the beam for precise measurement.

Unlike conventional laser scanning micrometer systems, the new LS-7010 measuring head uses no motor or rotating prism mechanism. A high intensity LED light source and a HL-CCD (High Speed Linear CCD) provide a significant increase in measurement speed and accuracy. The sampling rate of 2400 samples/sec. is 2 X that of conventional laser scan micrometer systems. With no moving parts, the LS-7010 measuring head generates no heat or vibration, making it maintenance free.

The advanced design of the LS-7010 includes a high intensity, low noise, GaN (Gallium Nitride), 520 nm (nominal) LED light source. The short wavelength offers higher resolution than conventional laser scan systems and more closely matches the operating characteristics of the CCD receiver element than GaP laser diodes. Additional performance enhancing features include a newly designed telecentric optical system that uses only parallel light to form an image - thus preventing fluctuations in lens magnification due to changes in target position. A new, high-speed linear CCD design (HL-CCD) allows continuous exposure to all received light.

Keyence Corp. of America, 50 Tice Boulevard, Woodcliff Lake, NJ 07677-7681 Phone: 888 KEY-ENCE (888-539-3623); Fax: (201)-930-1883 Web: www.keyence.com - E-mail: keyence@keyence.com

For Editors Use
For further information, contact Jason Gellman, Marketing Specialist, Keyence Corp. of America Phone: 201-930-0100, ext. 512 * Fax: 201-930-1883 * E-mail: jasong.hq@keyence.com

Note to Editor: If you would like to receive press releases by email (jpg of photo and either Microsoft Word document or pdf of release), please send email to: rsargent@amelar.com with your requirements and appropriate email address.

More from Optics & Photonics