Optical Isolator offers AC/DC voltage isolation up to 16 kV.
Press Release Summary: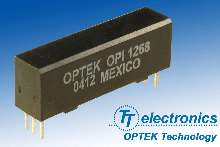 Consisting of infrared LED and photologic sensor, Model OPI1268 is capable of DC and AC voltage isolation between input and output circuitry while providing TTL signal integrity. Maximum isolation voltage is 16 kV with propagation delays less than 200 ns. Isolator is packaged in opaque plastic housing with transmissive internal light pipe between LED and photologic sensor. High level output current is typically 0.25 µA with max of 15 µA.
---
Original Press Release:

OPTEK Introduces Enhanced Optical Isolator Capable Of AC/DC Voltage Isolation Up To 16KV


CARROLLTON, TX (June 14, 2004) - TT electronics OPTEK Technology recently expanded its comprehensive line of optoelectronics with a newly updated high voltage optical isolator consisting of an infrared LED and photologic sensor. Designated the OPI1268 isolator, the device's electrical characteristics have been enhanced to accommodate a variety of high speed data transmission and signal isolation applications.
The OPI1268 isolator is capable of DC and AC voltage isolation between the input and output circuitry while providing TTL signal integrity. The isolator is packaged in an opaque plastic housing with a transmissive internal light pipe between the LED and the photologic sensor. The maximum isolation voltage is 16KV with propagation delays less than 200ns.

"OPTEK is already a leading supplier of optoelectronic components for the high speed data communications market; constantly updating and improving our family of optoisolators further reinforces our position in the growing power isolation market," explained Steve Coble, OPTEK Engineering Manager. "The enhanced electrical characteristics of the OPI1268 isolator deliver several advantages to the designer, including a reduction in high level output current and isolation voltage up to 16KV."

The IOH (high level output current) has been reduced from 25µA (typical) and 150µA (max.) to a typical of 0.25µA and a maximum of 15µA. Additional enhancements include the IF+ (LED positive going threshold current) which now features a minimum specification of 0.9mA.

The OPI1268 isolator is ideal for a variety of applications that require low- to high-speed data or signal isolation. Other applications include high voltage, PCB power system, industrial equipment and medical equipment isolation.

The input of the OPI1268 device consists of a high efficiency GaAlAs (Gallium Aluminum Arsenide) LED; a photodiode in the output IC detects incoming modulated light and converts it to a proportionate current. The current is then fed into a linear amplifier that is temperature; current; and voltage-compensated resulting in a highly stable digital output.

Typical pricing for the OPI1268 is $4.46 each in 1,000 piece quantities. Samples are available for immediate shipment and production lead-times range from stock to six weeks.

For more information about the OPI1268 Series sensors, contact TT electronics OPTEK Technology at 1645 Wallace Dr., Carrollton, TX, 75006; call 972-323-2200, e-mail at sensors@optekinc.com or visit OPTEK on the web at www.optekinc.com.

OPTEK Technology is a leading provider of custom sensing solutions which incorporate the use of infrared, magnetic and fiber optic technologies focused on applications in office machines, industrial equipment, encoders, automotive electronics, military and high-reliability applications, and medical diagnostic equipment. Headquartered in Carrollton, TX, with additional facilities in Juarez, Mexico, the company is QS-9000 and ISO 9001 certified. OPTEK Technology was acquired by TT electronics in December 2003.

TT electronics plc is a global electronics company manufacturing a broad range of advanced electronic components, assemblies and sensor modules for the automotive, industrial, telecommunication, computer and aerospace markets.

More from Electronic Components & Devices