Optical Interconnects facilitate modular use.
Press Release Summary: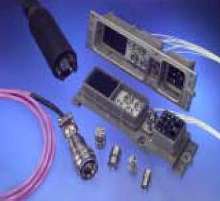 Expanded Beam Optical Interconnects come in 3 geometric shapes, in large, medium, and miniature-sized units containing 1, 2, or 4 fibers. They provide precision coupling of fiber-optic signal without making physical contact at fiber-to-fiber optical interfaces. Units are suitable for high vibration and thermal extremes found in avionics, field applications and rugged environments. Circular interconnects are available for hermaphroditic field communication and in-flight use.
---
Original Press Release:

Tyco Electronics Offers New Rugged Optical Interconnects


Harrisburg, PA, March 24, 2003 - Tyco Electronics now offers new Singlemode and Multimode Rugged Optical Interconnects. Recent advances in expanded beam technology by Tyco Electronics have
made this technology affordable and modular for multiple rugged applications.

Each circular Expanded Beam (EB) insert comes in three geometric shapes of large, medium, and miniature-sized interconnections containing one, two, or four fibers. These facilitate modular use that makes the age-old challenge of optics in harsh environments much more user friendly, field reparable and
terminable, and available in multiple connector schemes. Some examples of these varieties are:

o Circular for hermaphroditic field communication use. These interfaces are NATO approved varieties in our Pro Beam Sr. and Pro Beam Jr. connector lines. Tyco Electronics will soon introduce a very small Pro Beam Mini connector alternative that will be ideal for digital cinema and medical applications, as well as oil field applications.

o Circular for In-Flight applications housed in Mil-C-38999 Series III style in shell size 13 (Junior) and size 11 (Mini). By use of the Pro Beam Mini connector, there are concepts available to place four 4-channel inserts or 16 fibers that allow four at a time or just one fiber to be replaced in one shell size 25 38999III.

o VME card structures with a one or two insert (up to 8 fibers) daughter board and motherboard interface for P zero and P four positions. This empowers the VME chassis user to better extend
the life span of this workhorse design.

o ARINC 404 and 600 rack and panel connector schemes as part of the ARINC standard. This includes the ability to Blindmate up to 128 fibers in one shell size 3 ARINC 600 mated pair by incorporating standard insert holders for the modular optical inserts, including hybrid varieties that can allow a split of the insert cavity to house both optics and copper contacts.

o High Power solutions for the >1 Watt applications.

Modular Fiber Optic Expanded Beam inserts provide precision coupling of a fiber optic signal without making typical physical contact at the fiber-to-fiber optical interfaces. The light signal on the fiber is expanded 14 times its original diameter or 200 times its cross-sectional area for multimode and 45 times its original diameter and 2000 times its cross-sectional area for singlemode by a spherical lens, transferred across a designed gap at the separable interface to a second lens, and is then re-focused onto the receiving fiber.

The non-contacting Expanded Beam interconnection is designed for high vibration and thermal extremes encountered in avionics, field applications, and rugged environment platforms. The Expanded Beam interconnection is the "connector of choice," specified in avionics standard ARINC 628 for IFE systems
and ARINC 600 and 404.

For further information on these and other Tyco Electronics' fiber optic products, visit our website at: www.tycoelectronics.com or contact Tyco Electronics' Technical Support Center at 800-522-6752.

About Tyco Electronics
Tyco Electronics is one of the major business units of Tyco International Ltd. Tyco Electronics is the world's largest
passive electronic components manufacturer; a world leader in cutting-edge wireless, active fiber optic and complete
power systems technologies; and is also rapidly developing extensive networking and building technology installation services. Tyco Electronics provides advanced technology products from over forty well-known and respected brands, including Agastat, Alcoswitch, AMP, AMP NETCONNECT, Buchanan, CII, CoEv, Critchley, Elcon, Elo TouchSystems, LDI, M/A-COM, Madison Cable, OEG, OneSource Building Technologies, Potter & Brumfield, Raychem, Schrack, Simel and TDI Batteries.

More from Sensors, Monitors & Transducers