Optical Gesture and Proximity Sensing ICs suit automotive HMIs.
Press Release Summary: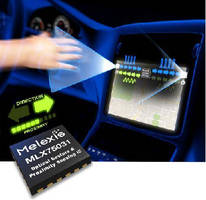 AEC-Q100 qualified for -40 to 105°C operation, MLX75030 and MLX75031 feature 2 simultaneously operating light measurement channels which can detect active optical reflection from target. MLX75030 allows external switches to drive LEDs up to 1 A peak, while MLX75031 integrates LED drivers to minimize external component count. Digital output contains measured active light and ambient light levels, which is processed on customer's microcontroller to detect gestures such as swipe, zoom, or scroll.
---
Original Press Release:

New Optical Gesture & Proximity Sensing ICs from Melexis Enable Safer Automotive Human-Machine Interfaces



Tessenderlo, Belgium, – Melexis Technologies NV releases a product family designed for easy implementation of robust optical proximity and gesture detection systems into automotive environments.



Automotive Human-Machine Interfaces (HMIs) need to be intuitive and safe to use, On the other hand, new car buyers expect functions and features like smartphone and media integration. Optical proximity and gesture detection enable a more intuitive HMI experience. Typical challenges for such systems are cost, sunlight robustness, electro-magnetic interference and mechanical integration constraints, while supporting multiple OEM configurations.  The MLX75030 and MLX75031 Optical Gesture and Proximity Sensing ICs address these challenges with Melexis' proprietary integrated ambient light suppression, proven electro-magnetic compliance, a small footprint and flexible system architecture.



The MLX75030 and MLX75031 feature two simultaneously operating light measurement channels which can detect the active optical reflection from a target. The proprietary integrated, ambient light suppression makes these channels highly tolerant to background light interference. Two additional channels are available to measure ambient light.



On system level, the MLX75030 and MLX75031 should be complemented by one or two LEDs and photodiodes, of any type, for active light detection. The MLX75030 allows external switches to drive the LEDs up to 1 A peak current, while the MLX75031 integrates the LED drivers to minimize external component count. Ambient light can be detected with up to two independent photodiodes. Any amount of detection channels can be added through multiplexing. Internal control logic, configurable user registers and SPI communication enable intuitive, programmable operation. Additional circuit functions like a watchdog timer, on-board temperature sensor and self-diagnostics are built-in to facilitate robust product design.



The digital output from the MLX75030 and MLX75031 ICs contain the measured active light and ambient light levels, which should be processed on the customer's microcontroller to detect gestures such as swipe, zoom or scroll. A measurement rate of up to 700 Hz per measurement channel allows smooth interface response times.



The MLX75030 and MLX75031 ICs are offered in a compact (4 mm x 4 mm), 24-pin surface mount QFN package. Both devices have been AEC-Q100 qualified for - 40°C to 105°C operational temperature range. Budgetary pricing is 2.5 USD for quantities exceeding 10'000 pcs.



www.melexis.com/hmi



Contact Melexis

Marketing Communications

Peter Riendeau

Melexis Inc 

15 Trafalgar Sq., Ste. 100

Nashua, NH 03063

USA

Tel: 603-204-2900

Fax: 603 578-1270

pre@melexis.com



Sales Leads

Susan Brocious

Melexis Inc

15 Trafalgar Sq., Ste. 100

Nashua, NH 03063

USA

Tel: 603-204-2900

Fax: 603 578-1270

sbr@melexis.com



About Melexis

Melexis Microelectronic Integrated Systems N.V. (Euronext Brussels:MELE) imagines, creates and delivers innovative mixed signal integrated circuits. Melexis ICs are driving green solutions that enable our customers to bring more energy efficient automotive systems to market. Melexis product portfolio addresses 4 classes of ICs; Sensor, Optoelectronic, Wireless and Actuators. Sensors include magnetic, MEMs, and sensor interface ICs. Optoelectronic products encompass linear arrays, single point sensors, infrared thermometers and CMOS wide dynamic range and night vision cameras. Wireless ICs focus on RKE, TPMS, ISM band applications, NFC, RFID reader and smart tag solutions. Actuator ICs cover LIN and CAN bus networking ICs and advanced BLDC motor driver technology. Melexis is proud of its participation toward reducing the human race's global environmental footprint.



For more information visit www.melexis.com

More from Packaging Products & Equipment