Optical Flange Detector enhances spooling accuracy.
Press Release Summary: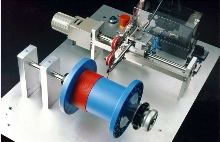 Optical Flange Sensing System enhances winding accuracy when used with Uhing traverse winding drives. Two versions are available: one relies on reflective properties of spool flanges, and one uses light curtain concept that does not require reflected light. Both systems employ opto-sensors to detect spool flanges and signal pneumatic or electronic switch to flip spring-actuated reversal lever on winding drive.
---
Original Press Release:
Spool Flange Sensing Options For Reflective Or Non-Reflective Spools Enhance Spooling Accuracy And Save Time

Aston, PA, March 2005 - Amacoil, Inc., has introduced two styles of an optical flange sensing system to enhance winding accuracy when used with Uhing traverse winding drives. One system relies on the reflective properties of the spool flanges, and the other version uses a "light curtain" concept which does not require reflected light.

Both systems employ opto-sensors to detect the spool flanges and signal a pneumatic or electronic switch to flip the spring-actuated reversal lever on Uhing winding drive. Whereas the lever is normally triggered by end stops manually positioned by an operator, the flange sensing systems save time because the operator need not stop work to adjust the end stops when spools of varying widths are used. Additionally, spooling accuracy is enhanced because optically detecting the flanges eliminates human error in positioning the end stops.

The reflected light version measures distance via the change in the rate of return of light reflected from the spool flange. The spools used must therefore be a bright color or made of a lustrous material to reflect the needed light.

The non-reflective system employs a transmitter and a receiver to create a steady beam of light or light curtain. When the spool flange breaks the light curtain, it signals the switch to turn the reverse lever. Because the light curtain method does not rely on the reflective properties of the take-up spool, it can be used with spools of any color, made of virtually any material including metal, paperboard, wood or plastic. Both styles of Amacoil flange detection systems accurately detect the spool flanges and therefore warped spools or spools with damaged flanges should not be used.

Flange sensing systems are available on new Uhing winding drive assemblies and in some cases may be retrofitted to existing Uhing set-ups. Additional information and a technical manual are available from Amacoil, Uhing's North American distributor.

Please contact Bob Eisele, Amacoil, Inc., PO Box 2228, 2100 Bridgewater Road, Aston, PA 19014. Tel: 610-485-8300. Fax: 610-485-2357. email: amacoil@amacoil.com. Web: www.amacoil.com

Email reader inquiries to: beisele@amacoil.com
More from Controls & Controllers