Optical Fiber Modules are based on 650 nm wavelengths.
Press Release Summary: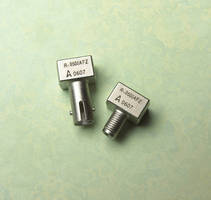 Optical fiber transmitter and receiver modules, HFBR-15x5/25xx includes 4 models supporting SERCOS, Interbus and PROFibus standards. They are available with SMA and ST connector ports and are compatible with 1 mm POF/200µm HCS. Model HFBR-1505/AFZ/2505AFZ is designed for 10 MBd SERCOS, HFBR-1505CFA/2505CFZ supports 2 MBd Interbus-S, HFBR-1515BFZ/2515BFZ supports 10 MBd PROFIbus-S, and HFBR-1506AFZ/2506AFZ supports 16 MBd SERCOS. Models have operating temperature range from -40 to 85°C.
---
Original Press Release:

Avago Technologies Announces All-Metal Fiber Optic Components for Industrial Networks



Full Portfolio of Highly Rugged Industrial-Grade Transmitters and Receivers with ST and SMA Port Options Support FieldBus Standards

MUNICH, Germany, ELECTRONICA - Nov. 12, 2008, Avago Technologies, a leading supplier of interface components for communications, industrial and consumer applications, today announced a new line of FieldBus optical fiber transmitter and receiver modules. The HFBR-15x5/25xx industrial-grade optical fiber modules leverage full metal housing and connectors to increase the ruggedness of deployed communications equipment in the field. Designed to support SERCOS, Interbus and PROFibus standards, these new components also offer high levels of ESD (electrostatic discharge) protection to guard against the growing levels of electrical noise and interference found in today's harsh, industrial networking environment.

Designed with a metal connector and metal packaging, the HFBR-15x5/25xx provides excellent RFI/EMI shielding. Based on 650 nm wavelengths, the new components will be available with SMA and ST connector ports and are compatible with 1 mm POF/200µm HCS (hard-clad silica fiber). Additionally, the HFBR-15x5/25xx features data rates from DC to 10 MBd and DC to 16 MBd, and offers a -40 to 85 degree C operating temperature range.

Pricing and Availability
Avago's new all-metal fiber optic industrial transmitters/receivers will be available in four variations. The HFBR-1505/AFZ/2505AFZ is designed for 10 MBd SERCOS: the HFBR-1505CFA/2505CFZ supports 2 MBd Interbus-S; the HFBR-1515BFZ/2515BFZ supports 10 MBd PROFIbus-S; and the HFBR-1506AFZ/2506AFZ supports 16 MBd SERCOS.

All products will be available in December 2008. Pricing for the HFBR-15x5/25xx begins at $11.00 each in 1,000 pieces, depending on connector type.

More information about Avago Technologies industrial fiber optic products can be found here: www.avagotech.com/pages/en/industrial/industrial_networking/.

Avago will showcase at Electronica its newest products along with several live demonstrations of its LEDs, optocouplers, sensors and fiber optic technologies in various industrial and automotive applications. Avago will be in booth number 243 in Hall A4 during Electronica taking place November 11-14 at the New Munich Trade Fair Centre in Munich, Germany.

About Avago Technologies
Avago Technologies is a leading supplier of analog interface components for communications, industrial and consumer applications. By leveraging its core competencies in III-V compound and silicon semiconductor design and processing, the company provides an extensive range of analog, mixed signal and optoelectronics components and subsystems to more than 40,000 end customers. Backed by strong customer service support, the company's products serve four diverse end markets: industrial and automotive electronics, wired infrastructure, wireless communications, and consumer and computer peripherals. Avago has a global employee presence and heritage of technical innovation dating back 40 years to its Hewlett-Packard roots. Information about Avago is available on the Web at www.avagotech.com


More from Electrical Equipment & Systems