Optical Encoders suit tight package constraint applications.
Press Release Summary: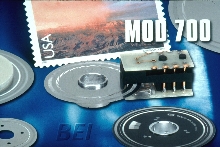 MOD 700 Series incremental rotary encoders are comprised of LED and OptoASIC in 17.7 x 9.6 x 8.89 mm package. They offer resolutions as high as 2,540 ppr. OptoASIC provides +/- 0.010 in. tolerance for axial movement, 40 mA power consumption, and operating temperature of 0 to 85 deg C. Stainless steel code disk features range of standard optical radii, from .375 to .860 in., and can accommodate shaft diameters from .125 in.
---
Original Press Release:
BEI Duncan Electronics Announces Miniature Surface Mount MOD 700 Optical Encoder Series

CHICAGO - March 18, 2002 - Duncan Electronics, a division of BEI Technologies, Inc., has developed the new Incremental Rotary Encoder MOD 700 Series, offering a highly miniaturized encoder solution ideally suited for integration into motors or other tight package constraint applications. Based on the company's proven Opto-ASIC technology, the high performance device accommodates a broad range of standard code disk resolutions and diameters with a miniature lead-frame caliper that easily surface mounts directly onto the PCB.

Comprised of an LED and OptoASIC configured into a small caliper, the MOD 700 incorporates Duncan's proven encoder technology in an extremely compact package size of 17.7 mm x 9.6 mm x 8.89 mm and features resolutions as high as 2,540 PPR (Pulse Per Revolution). The MOD 700 encoder leverages the success of Duncan's Opto-ASIC design, a phased array photo diode IC noted for its high tolerance for axial movement (+/- 0.010"), low power consumption (40 mA typical), and high operating
temperature capability from 0°C to 85°C (-40° to +105°C optional). This technology provides for a 0.030"(0.75 mm) air gap, allowing for easy mounting without tight tolerance constraints. The Opto-ASIC chips also offer 5V TTL dual channel quadrature output and index.

The MOD 700 can be surface mounted onto PCBs or installed onto flexible circuitry via SMT solder pads on the base of the unit. Two integrally molded orientation posts in the miniature caliper's housing assure correct alignment on the PCB. The unit has a weight of only 25 grams.

The MOD 700 Models can be provided with a wide range of optical disks to accommodate a variety of shaft diameters. The standard stainless steel code disk features a broad range of standard optical radii, from as small as .375" (9.38 mm) to as large as .860" (21.5 mm) and can accommodate shaft diameters from .125" (3.12 mm to 1.0 25 mm). A photographic film code disk is also available for applications with lower temperature
extremes.

"The MOD 700 generation encoder offers small size, high performance and flexibility - criteria that have typically been incompatible," commented John Pindroh, BEI Duncan Sales Manager. "Duncan achieved its goal of designing an encoder that would provide the smallest package size and accommodate the broadest range of standard optical radii with the most common requested resolutions. We are pleased to introduce a product that will be of extreme interest for high volume requirements like motor feedback."

The combined benefits of Opto-ASIC technology make the MOD 700 ideal for customization in meeting tight packaging and popular resolution requirements. Designs can include custom code disk radii and dedicated resolutions between 100 to 2540 PPR.
Custom code disks can also be built to accommodate shaft diameters from less than 1 mm to several inches, with keying provided for disc/shaft indexing. Other options include special
or modified electrical performance, terminations, and mounting options to meet exacting application requirements. Immediately available, typical unit pricing starts from $18.00 each in large quantities.

About BEI Duncan Electronics
BEI Duncan Electronics is an operating division of BEI Technologies, Inc. (NASDAQ:BEIQ). BEI is an established manufacturer of electronic sensors and motion control
products used for factory and office automation, medical and scientific equipment, military, aviation and space systems, and transportation equipment including automobiles, trucks and off-road equipment. The company's product portfolio includes optical encoders, brushless DC motors, voice coil actuators, potentiometric position sensors, silicon microelectomechanical system (MEMS) devices, rotation rate sensors, pressure transducers, and servo systems.

For further information, contact BEI Duncan Electronics, 15771 Red Hill Avenue, Tustin, CA 92780; Tel: (714) 258-7500; Fax: (714) 258-8120; E-mail: sales@beiduncan.com; Web Site: www.beiduncan.com.

All trademarks are properties of their respective companies.

For electronic files of attached slide image, please contact J2 Marketing Services at (714) 592-2527 or e-mail: cynthia_guardia@j2marketing.com.

More from Mounting & Attaching Products