Optical Encoders handle harsh and explosive environments.
Press Release Summary: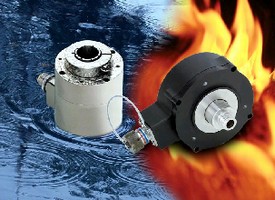 Suited for washdown and intrinsically safe environments, NorthStar(TM) Series HD20, HD25, HSD23, HSD38, and DWD38 feature double-labyrinth sealed housing that enables them to achieve ratings of IP66/IP67 and NEMA 4X or NEMA 6. All are available with optional stainless steel or nickel-plated housing. Encoders are rated for mechanical shock of 50 g for 11 msec duration, and vibration of 5-2,000 Hz at 20 g. Intrinsically-safe versions are rated to 80°C.
---
Original Press Release:

Danaher Expands NorthStar Brand with New Line of Harsh-Duty Optical Encoders (ATEX)



Chicago, March 6, 2006 -- Danaher Industrial Controls Group (DICG) announced an expansion of its NorthStar(TM) brand of heavy duty encoders with a new line of harsh-duty optical encoders specifically designed for washdown and intrinsically safe environments. The new line's five encoder models - the HD20, HD25, HSD23, HSD38 and DWD38 - are the first optical products in the NorthStar brand, a leader in magneto-resistive technology encoders. Now users have the performance accuracy and convenience of an optical encoder combined with the ruggedness and durability of the renowned NorthStar brand. These features provide users with a low cost of total ownership, by eliminating or reducing encoder failures.

The new NorthStar optical encoder line will work just as well in steel mill, paper mill, cranes, transportation and textile mill environments as the brand's traditional magneto-resistive encoders. More importantly, the new line extends the reach of the NorthStar line into new applications in food and beverage packaging, oil and gas drilling, petrochemical processing, and military equipment systems.

Encoders Handle Harsh and Explosive Environments
Danaher's harsh-duty encoders can be installed in applications where regulatory washdown, high pressure steam or caustic chemicals are present. A double-labyrinth sealed housing enables the encoders to achieve ratings of IP66/ IP67 and NEMA 4X or NEMA 6. All of the encoders are available with optional stainless steel or nickel plated housings.

None of the other major encoder suppliers offer such a wide range or ruggedly designed optical heavy-duty encoders with optional stainless steel or nickel plated housings. NorthStar encoders offer greater durability and application flexibility and are therefore better suited for harsh-duty applications where caustics and wash-down requirements are present, such as food and beverage packaging applications that need to meet USDA, HACCP, and other FDA requirements.

An advanced opto ASIC with innovative packaging techniques enables the encoders to operate in high shock vibration environments. They are rated for mechanical shock of 50G for 11msec duration, and vibration of 5 to 2000Hz at 20Gs. Intrinsically-safe versions are available certified to ATEX EEx ia IIB T4, when used with the appropriate IS barrier.

Intrinsically-safe model encoders are rated to 80o C - which is double the temperature ceiling of comparable encoders made by the leading competitor. This is important for applications that require explosion-proof devices, such as oil and gas drilling rigs located in hot climates.

Primarily, the harsh-duty line will be of interest to encoder users who have experienced reliability problems with general-purpose quality encoders. However, the line also offers advantages over magneto-resistive encoders. Because they are based on a different technology than the magneto-resistive encoders in the NorthStar line, the new optical encoders have a significantly smaller size package. They can be mounted to smaller motors or coupled to shafts in space restricted applications. They also feature up to nearly twice the resolution of the magneto-resistive encoders in the NorthStar brand, and they offer a wider range of resolution that adds flexibility to their use. Finally, the optical encoders are easier to install than products that require assembly or alignment.

General Specifications
The shafted Series HD20 and HD25 both have shaft sizes in 3/8" and 10mm. Shafts are offered with or without a flat depending on the coupler arrangement used. They are built rugged with an industry-best all-mechanically-retained spindle that is cable of withstanding 100 lb. loads in both axes.

There are two hollow shaft models. Series HSD38 hollow shaft encoder accepts shafts from 3/8" to 1" diameter and 10mm diameter. The Series HSD23, which is a more compact design, accepts 3/8" to 3/4" shafts and 10mm shafts. Both models have electrically isolated bores which make them ideal for vector drive applications.

The Series DWD38 encoder is designed specifically for use in draw works/oil field applications. The encoders are stackable via mail and female threads, so that multiple units can be attached to the same shaft, providing back-up units to meet special safety requirements. NAMUR outputs and a NEMA 6P enclosure are available as options.

In addition the encoders feature multiple styles of rugged industrial sealed connectors/cables, unbreakable disks offering 1 to 5000 PPR, a wide operating range of -40 to 100o C, and several output configurations including dual 5-26V LD/OC arrangements.

Price and Availability
NorthStar brand optical encoders are available 2 weeks ARO. Prices start at $375 List for the HD20, $575 List for HD25, $495 List for HSD23, $1045 List for HSD38 and $1125 List for the DWD38. Discounted pricing is available for high volume applications. Price includes a two year warranty. (ATEX, Nickel and Stainless steel versions available with approximate 4 week lead times)

For More Information
For more information on NorthStar brand encoders or any of Danaher Industrial Controls' products, contact Danaher Industrial Controls at: 800-873-8731 or visit the Website: feedbackdevices.com.

About Danaher Industrial Controls
Danaher Industrial Controls Group designs manufacturers and markets a wide variety of encoders, counters, motion and process controls and timing products used throughout Factory and Process Automation applications worldwide, including Dynapar(TM), NorthStar(TM), and Hengstler(TM) brand encoders, Harowe(TM) brand resolvers, Veeder-Root(TM) brand counters, Eagle-Signal(TM) brand timers, Partlow(TM) brand controllers and recorders, West(TM) brand controllers, PMA(TM) brand controllers and Anderson(TM) brand and Negele(TM) brand sanitary process instrumentation. For more information on NorthStar's new line of harsh-duty optical encoders, contact your nearest NorthStar brand Factory Automation distributor or DICG at 1675 Delany Road, Gurnee, IL 60031. Phone: 1-800-873-8731 or 847-662-2666; FAX: 847-662-6633. Website: www.danaherindustrialcontrols.com.

More from Electrical Equipment & Systems