Optical Encoders deliver up to 50 nm resolution.
Press Release Summary: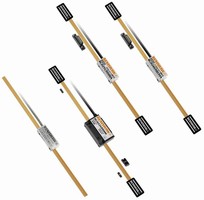 Models RG2 (20 µm) and RG4 (40 µm) are open, non-contact linear encoders that combine cut-and-tape steel scale with side-lit filtering optics, offering immunity to dirt, dust, and contamination. Along with choice of clocked outputs to promote controller compatibility, products feature overspeed as well as low-signal alarms. Other features include RGE and RGB interfaces and readheads with integral signal condition monitoring circuit.
---
Original Press Release:

Proven Choice for Demanding Industrial Applications, RG2 and RG4 Optical Encoders Continue Evolution with More Speed, Resolution, and Features



Proven Choice for Demanding Industrial Applications, RG2 and RG4 Optical Encoders Continue Evolution with More Speed, Resolution, and Features Latest generation of "industrial strength" encoders now 20-30% faster, even more robust and reliable, with 50 nm readhead resolution now available, while maintaining same affordable pricing

January 2006 - Renishaw continues the evolution of its "industrial strength" RG2 (20 µm) and RG4 (40 µm) optical encoders. Latest generation models of the open, non-contact linear encoders offer faster speeds, higher resolution, more features, and still greater reliability, while maintaining the same affordable pricing. Proven choices for demanding industrial applications, the robust Renishaw encoders combine unique cut-and-tape steel scale with proprietary filtering optics giving superior immunity to dirt, dust and contamination.

Key improvements include 20-30% faster speeds at slower controller inputs, lower SDE, 50 nm resolution available directly from the readhead with reduced power consumption, plus a host of electronic upgrades ensuring more robust signal and enhanced reliability. A wider choice of clocked outputs provides compatibility with a broad range of controllers.

High resolution versions include an overspeed alarm for added safety, to go along with standard set-up LED and low signal alarm. RGE and RGB high resolution interfaces are now reduced in size. To mark these improvements, the new readheads feature a revised finish and new labeling.

Renishaw's RG family encoders are noted for their innovative filtering optics, high accuracy, speed and reliability, and application versatility. As customers and designers push performance and specifications to the limit, Renishaw supports that progress by continuously evolving and improving its encoder product range.

The RG2/4 readheads use Renishaw patented side-lit filtering optics to scan and average reflections from 80 scale facets. This effectively filters out signals which do not match the scale period, ensuring superior signal stability and accuracy even with dust, dirt, scratches, fingerprints, smudging, or other localized contamination. Non-contact operation eliminates friction, hysteresis and wear for dependable, lasting positioning precision.

Unique to RG readheads is a signal condition monitoring circuit which drives an integral two-color LED, and an alarm signal for remote conditioning of the control. The LED enables quick installation with visual confirmation of optimum scale alignment, while the alarm signal alerts the control of low signal amplitude, eliminating the danger of unrecognized encoder-count loss.

The range of readheads provides a choice of analog output of 10.0, 5.0, 1.0, 0.5, 0.1-micron or 50 nm resolution digital quadrature (RS422) outputs. All have a synchronized magnetic reference mark pulse, repeatable to system resolution. Analog readheads provide either current or voltage output. Digital units perform interpolation inside the readhead, eliminating the need for external electronics. The differential line-driven outputs provide exceptional noise immunity, ideal for applications involving long cable runs and continuous operation in harsh electrical/magnetic interference environments.

The reflective scale is a gold-plated steel tape, lacquered to protect against routine handling and contamination. It comes on a reel (up to 50m in length) for easy "cut-to-fit" use. The scale's adhesive backing mounts to all common material types, including granite, ceramic, steel, aluminum, iron and invar. By mounting directly to the machine, the scale thermally replicates the base material, eliminating the need to compensate for multiple coefficients of expansion. With the scale ends pinned down by epoxy end clamps, there is zero differential movement between scale and substrate, giving excellent thermal stability and repeatability. The scale tape can be applied quickly and easily at any stage of machine build, with a special applicator ensuring parallelism with axis guideways. No drilling is required.

As with all Renishaw products, a worldwide application support network and local inventories bring added confidence to system designers.

For more information on Renishaw's encoders, contact Howard Salt, Business Manager, Encoder systems, Renishaw Inc., 5277 Trillium Boulevard, Hoffman Estates, IL 60192. Phone 847-286-9953; fax 847-286-9974. Email: howard.salt@renishaw.com.

For a detailed look at other productivity enhancements for metrology, linear and rotary position feedback, and machine tool calibration, visit Renishaw's web site at: http://www.renishaw.com/encoders.

Reader inquiries should be directed to:

In USA
Sue Wilm
Marketing Assistant
Renishaw Inc.
5277 Trillium Blvd.
Hoffman Estates IL 60192

In Canada
Dafydd Williams
General Manager
Renishaw (Canada) Limited
2180 Dunwin Drive, Unit #1
Mississauga ONT L5L 5M8