Optical Elements produce axisymmetric polarizations.
Press Release Summary: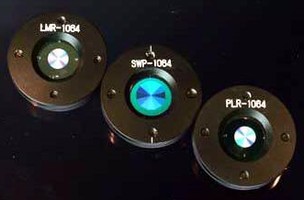 Heat-tolerant elements consist of patterned photonic crystal polarizers and wave plates that make it possible to generate stable azimuthal and radial polarizations at 1,064 nm. Products include laser mirrors LMR-1064 (radial) and LMA-1064 (azimuthal) as well as polarizers PLR-1064 (radial) and PLA-1064 (azimuthal), which have clear aperture of 5 mm. Also available, SWP-1064 wave plate array can produce radial or azimuthal polarization and has clear aperture of 7 mm.
---
Original Press Release:

Axisymmetric Polarization Elements



Photonic Lattice, Inc. introduces a range of optical elements to produce axisymmetric polarizations at 1064nm - a new tool for applications including optical trapping, materials processing, optical lithography and microscopy.

Patterned photonic crystal polarizers and wave plates make it possible to generate stable high quality azimuthal and radial polarizations. Elements are available for a wavelength of 1064nm, exhibit a high optical damage threshold and superior heat tolerance.

There are five elements in the product range: the PLR-1064 and PLA-1064 polarizers produce radial and azimuthal polarizations respectively, the LMR-1064 and LMA-1064 laser mirrors produce radial and azimuthal polarizations respectively, and the SWP-1064 wave plate array produces radial or azimuthal polarization depending on its azimuthal orientation. Polarizer elements have a clear aperture of 5mm, and the wave plate array has a clear aperture of 7mm. All elements are mounted in a standard 25.4mm mount.

For further information please visit www.photonic-lattice.com/en/ASP_1.html or contact agalea@photonic-lattice.com

More from Chemicals & Gases