Optical Disc has 23.3 Gb capacity and 72 Mbps transfer rate.
Press Release Summary: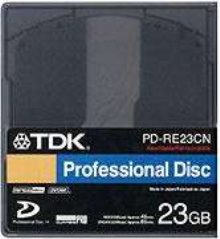 Read and written to by 405 nm wavelength, blue-violet laser, Professional Disc PD-RE23CN is manufactured with 0.1 mm thick transparent cover layer for stabilized recording and playback. Phase change materials and recording layer structure produce stable disc characteristics, even after 10,000 overwrites. Featuring long-term storage capability of 50+ years, disc is manufactured with DURABIS PRO Hard Coating Technology for resistance to dust and scratching.
---
Original Press Release:

TDK Launches Sales of Professional Disc (PD-RE23CN) with 23.3GB Capacity and High-Speed 72Mbps*1 Transfer Rate Utilizing Blue Laser Technology


TDK's Professional Disc Offers Unprecedented Storage Capacity And High Durability with TDK's Exclusive DURABIS PRO Hard Coating Technology

Professional Disc PD-RE23CN

April 18, 2005

TDK Corporation today announced that it has reached a licensing agreement with Sony for TDK to begin manufacturing and distributing TDK Professional Disc (PD-RE23CN) media, rewritable optical discs that provide compatibility with Sony's Professional Disc(TM) System (XDCAM(TM)). The new TDK Professional Disc media will launch worldwide in June 2005.

The TDK Professional Disc, which uses a blue-violet laser with a short wavelength for recording and playback, boasts a capacity of 23.3GB - approximately five times that of DVD media - as well as a rapid transfer rate of 72Mbps. Thanks to its random data access capability and other features available only from optical disc media, it can be expected to find growing acceptance in broadcasting applications.

In the development of its Professional Disc, TDK, a world leader in specialty recording media manufacturing, has incorporated technologies specifically developed for use with the advanced blue-violet laser. These technologies include the recording materials and recording layer that form the basis for its performance utilizing high-sensitivity phase change materials and a layer structure designed exclusively for high-speed recording. Through high-precision spin coating technology, discs are manufactured with an extremely smooth 0.1mm-thick transparent cover layer. In addition, to accommodate the disc's extremely narrow track pitch, high-precision mastering and injection technology achieve the exceptionally accurate recording and playback stability demanded by the Professional Disc System.

Due to the high-density recording required by the Professional Disc System, adherence of any dust on, or scratches to the disc surface can have a serious impact on recording and playback accuracy. By utilizing TDK's DURABIS PRO*2, a hard coating technology developed for professional-use discs, TDK's Professional Disc offers extremely high durability and recording reliability.

In the future, demand for optical discs in professional broadcasting applications is expected to increase further, thanks to such capabilities as fast transfer of images to IT systems, high-speed editing, random access and other advantages. In this environment, TDK is confident that its Professional Disc for broadcast use will assume a key role.

TDK has always been committed to offering the most advanced media solutions to professionals and consumers. The launch of TDK's Professional Disc (PD-RE23CN) for Sony's "Professional Disc" Systems strengthens TDK's position as a leader in recording media, while expanding TDK's role as the brand that professional users can trust for the ultimate in performance and reliability.

*1 In the case of one optical head. With two optical heads, 144Mbps.

*2 DURABIS is the name TDK applies to its special hard coating technology for optical disc surfaces (the surface irradiated by the laser beam). It offers three key characteristics: resistance against scratches, smudges (particularly fingerprints), and dust. The PD-RE23CN Professional Disc utilizes DURABIS PRO technology adapted for professional-use discs.

Main features of the Professional Disc (PD-RE23CN)

Large 23.3GB capacity provided by blue-violet laser recording, with high-speed 72Mbps*3 transfer rate.

By use of a blue-violet laser with an extremely short 405nm*4 wavelength, a large recording capacity of 23.3GB - about five times that of a DVD disc - is realized on a disc of the same size. In addition, high-sensitivity phase change materials and an optimized layer structure allows for a high-speed transfer rate of 72Mbps with stabilized recording and playback.

*3 In the case of one optical head. With two optical heads, 144Mbps.

*4 1nm = one-billionth of a meter

Use of DURABIS PRO technology achieves a durable recording surface with greatly enhanced resistance to dust and scratching.

The presence of dust or scratches on the recording surface of the Professional Disc can cause more serious problems than on DVDs. TDK's Professional Disc utilizes DURABIS PRO, a high-durability hard coating technology developed for professional-use discs, over the cover layer to protect it against dust or scratches.

* Improved static electricity discharge effect. Recording surface stands up to dust.

The hard coat created with DURABIS PRO technology provides an outstanding static electricity discharge effect, showing results far superior to a disc without this technology. As this makes it more difficult for dust particles to adhere to the disc, problems associated with the adherence of microdust are greatly reduced.

* Recording surface with significantly improved resistance to scratching.

The hard coat provided by DURABIS PRO creates a significantly stronger recording surface. In tests using an abrasion wheel run against the recording surface, extremely low abrasion rates are realized, giving it a surprisingly high resistance to scratches

Spin coating yields an exceptionally smooth cover layer, for stabilized recording and playback.

Thanks to TDK's proprietary spin coating technology, the cover layer of the Professional Disc is extremely smooth, with an outstanding uniformity in thickness. As a result, the disc is able to obtain a stabilized servo signal, with reduced load on the control circuitry of the recording/playback device, making possible more stabilized recording and playback.

Stable characteristics even after 10,000 overwrites, and outstanding hardware compatibility.

The high-sensitivity phase change materials and recording layer structure suitable for the demanding requirements of the Professional Disc were developed and implemented by TDK. Thus, even after 10,000 overwrites, stable recording and playback characteristics with a low error rate are realized. In addition, the high-sensitivity phase change material can accommodate a wide power range of blue laser recording. Combined with the high-precision substrate, which is created using high-precision cutting technology and precision injection molding technology, the disc is able to provide outstanding performance with virtually all compatible hardware.

A high-precision, high-reliability cartridge protects the disc.

TDK has applied its extensive experience in shell and cartridge technology, utilizing components well matched to the functions of their respective parts. The disc's anti-dust, exceptionally durable cartridge works together with the hard coat of the disc's recording surface created with DURABIS PRO technology to provide unprecedented protection of images and data recorded on the disc.

The Professional Disc is a high-reliability disc with long-term storage capability of over 50 years.

Accelerated environmental testing was conducted on the Professional Disc utilizing punishing conditions of heat and humidity unthinkable under normal user or storage environments. Test results show virtually no change in the disc's initialization signal characteristics even after conditions corresponding to 50 years of ordinary use. These test results confirm that the PD-RE23CN is a high-durability, high-reliability disc suitable even for ENG or EFP tasks in demanding outdoor environments.

Professional Disc PD-RE23CN - Information

Recording Times

MPEG IMX format DVCAM format

Approx. 45 min.

(MPEG IMX with 50Mbps compression) Approx. 85 min

(DVCAM with 25Mbps compression)

Approx. 55 min.

(MPEG IMX with 40Mbps compression)

Approx. 68 min.

(MPEG IMX with 30Mbps compression)

Specifications

Item Unit PD-RE23CN

Capacity GB 23.3

Disc diameter mm 120

Disc thickness mm 1.2

Cover layer thickness mm 0.1

Cartridge dimensions mm 128.6 x 130.6 x 9.1

Recording method - Phase change recording

Recording wavelength nm 405 (blue-violet laser)

Data transfer rate Mbps 72 (1 optical head)/ 144 (2 optical heads)

Track pitch mm 0.32

Disc type - Rewritable

No. of rewrites No. Over 10,000

* Dimensional specifications are nominal values.

* TDK logo is a trademark or registered trademark of TDK Corporation

* DURABIS is a trademark of TDK Corporation.

* "Professional Disc," "XDCAM," "DVCAM" and "MPEG IMX" are trademarks of Sony Corporation.

* This product is intended for exclusive use with the Professional Disc System ("XDCAM").

* This disc cannot be used with "Blu-ray Disc" or "Professional Disc for DATA" equipment.

For further information, contact Mr. Koike in the Corporate Communications Tel.: 81-3-5201-7102

More from Machinery & Machining Tools