Optical Components suit ultraviolet portion of spectrum.
Press Release Summary: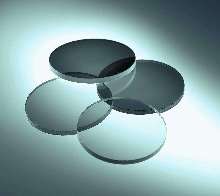 Tech Spec(TM) UV Fused Silica Right Angle Prisms in standard tolerance offers ±5 arc-min angle tolerance and ½ wave surface accuracy. High-tolerance version offers ±40 arc-sec angle tolerance and 1/10 wave surface accuracy. Tech Spec(TM) Precision UV Fused Silica Optical Windows range from 10-25 mm dia and come with or without VIS 0° Anti-Reflection coating. Tech Spec(TM) UV Fused Silica ND Filters offer optical densities from 0.3-3.0, and are spectrally flat from 200-700 nm.
---
Original Press Release:

Edmund Industrial Optics Widens Range of Optical Components into the UV


March 15, 2003, Barrington, NJ - Edmund Optics, Inc. (EO) of Barrington, New Jersey has expanded its range of products to include various optical components designed for the ultraviolet (UV) portion of the spectrum. Products in this expansion include UV right angle prisms, windows, and neutral density filters.

Tech Spec(TM) UV Fused Silica Right Angle Prisms are available in two grades. The standard tolerance (±5 arc min angle tolerance; ½ wave surface accuracy; 60-40 scratch-dig) prisms are well suited for UV imaging applications while the high tolerance (±40 arc sec angle tolerance; 1/10 wave surface accuracy, 20-10 scratch dig) prisms are ideal for beam steering and other laser-based applications. The prisms are available in a variety of sizes, all uncoated.

Tech Spec(TM) Precision UV Fused Silica Optical Windows are available in a number of diameters ranging from 10mm to 25mm. The windows are offered either uncoated or coated with Edmund's new VIS 0° Anti-Reflection coating. Custom coatings are also available for OEM and high-volume orders. Superior transmission characteristics, excellent thermal properties, and high tolerance manufacturing specs make these windows a perfect fit for demanding UV applications.

The Tech Spec(TM) UV Fused Silica ND Filters are ideal for a wide range of ultra-violet sources. With optical densities ranging from 0.3 to 3.0, these neutral density filters are spectrally flat from 200nm to 700nm and have laser-grade surface accuracy and surface quality. These filters are suitable for broadband source attenuation or low-powered laser applications and can be stacked to obtain a variety of optical densities.

These products round out the company's offering of UV singlets, filters, diffusers, and mirrors, and all are available off-the-shelf for both single quantities and larger volumes.

About Edmund Industrial Optics Inc.
Edmund Optics (EO) has been a leading supplier of optics and optical components to industry since 1942, designing and manufacturing a wide array of multi-element lenses, lens coatings, imaging systems, and opto-mechanical equipment. EO is application-focused and pursues new ways to implement optical technology, enabling advancements in semiconductor manufacturing, industrial metrology, and medical instrumentation. Our staff and facilities span the US, Europe, Singapore, Japan, and China. EO's skilled optical engineers design precision products for use in research, test & measurement applications, and for the automation of manufacturing processes. Visit www.edmundoptics.com to learn more.

Contact:

Jeff Harvey
Marketing Manager
Edmund Industrial Optics
856-573-6250 ext. 6825
jharvey@edmundoptics.com

More from Fluid & Gas Flow Equipment