Optical Chopper offers frequency stability better than +/-0.1%.
Press Release Summary: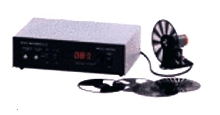 Variable frequency Optical Chopper utilizes Dual Phase Lock-In Amplifier to allow greater offset before saturation of gains settings. Blades are 102 mm diameter, chemically blacked, photo-etched discs that allow for operation frequency range of 5 Hz to 20 kHz. They come in 2, 5, 10, 30, and 200 slots. LED display provides direct read-out of chopping frequency, which is set by adjusting 10-turn dial or by applying and external, BNC control input.
---
Original Press Release:

New Optical Chopper and Lock-In Amplifier Available from Edmund Industrial Optics


July 12, 2002, Barrington, NJ - Edmund Industrial Optics has announced the release of a high stability, variable frequency Optical Chopper.

Frequency stability is better than ±0.1% of reading when used within 10 to 100% of maximum frequency. Blades are 102mm diameter, chemically blacked, photo-etched discs that allow for an operation frequency range of 5Hz to 20kHz. These discs come in
2, 5, 10, 30, and 200 slots. The blades are interchangeable and due to their non-magnetic composition, can be used in combination to yield additional frequencies not provided.

The LED display provides a direct read-out of chopping frequency, which is set by adjusting a ten-turn dial or by applying and external, BNC control input. The TTL pulse reference output is in phase with chopping rate.

Jumpers allow the outer BNC contact or screen to have either a high or low impedance differential input, or to be connected to case ground for single-ended operation. However, with the newly designed Dual Phase Lock-In Amplifier, greater offset is allowed before saturation of gain settings.

The input circuitry uses a phase locked loop to lock onto a range of signals. A phase shifting circuit allows the reference signal to be adjusted with relation to the signal input. Signals can be monitored at both 1x and 2x the reference frequency.

About Edmund Industrial Optics, Inc.
Edmund Optics (EO) has been a leading supplier of optics and optical components to industry since 1942, designing and manufacturing a wide array of multi-element lenses, lens coatings, imaging systems, and opto-mechanical equipment. EO is application-focused and pursues new ways to implement optical technology, enabling advancements in semiconductor manufacturing, industrial metrology, and medical instrumentation. Our staff and facilities span the US, Europe, Singapore, Japan, and China. EO's skilled optical engineers design precision products for use in research, test & measurement applications, and for the automation of manufacturing processes. Visit www.edmundoptics.com to learn more.

Contact: James Liolin
Lion Associates
Marketing Communications
914-670-0138
jliolin@lionadv.com

Julianne Wagner
Edmund Industrial Optics
856-573-6250, ext.6158
jwagner@edmundoptics.com

Related