Optical Amplifier is capable of uncooled operation.
Press Release Summary: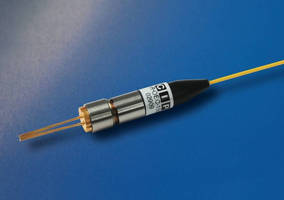 SOA-R-OEC-1550-CO high signal gain reflective semiconductor optical amplifier is coaxially packaged in pigtailed TO-56 can and is capable of uncooled operation over extended temperature range, making it suitable for applications including sensor networks and WDM-PONs. It uses buried InP heterostructure design and offers over 20 dB of signal gain across C-band at temperatures up to 70°C. Device also incorporates monitor photodiode.
---
Original Press Release:

CIP Technologies Releases New Uncooled Coax Reflective SOA Product



Martlesham Heath, UK, September 15, 2009 -- CIP Technologies, a company with a long history of photonics innovation, today announced a new addition to its range of semiconductor optical amplifiers (SOAs). For the first time, a high signal gain reflective SOA coaxially packaged in a pigtailed TO-56 can is capable of uncooled operation over an extended temperature range. This makes it suitable for a broad range of applications including sensor networks and WDM-PONs (wavelength division multiplexing passive optical networks).

The SOA-R-OEC-1550-CO uses CIP's proprietary buried InP (indium-phosphide) heterostructure design and offers over 20 dB of signal gain across the C-band at temperatures up to 70 degrees Centigrade. The device is a pigtailed coaxial design, and incorporates a monitor photodiode.

Commenting on the announcement, Dr Ian Lealman, CIP's SOA product manager, explained: "CIP already offers uncooled reflective SOAs in TO-can packages for use in Bi-Di modules, but our customers have also been asking for a convenient pigtailed package suitable for early evaluation of WDM-PON architectures. In this configuration, the product is also proving to be an ideal source in a range of fiber optic sensor networks."

Please contact CIP for pricing and availability information; www.ciphotonics.com

About CIP Technologies

CIP Technologies is the trading name of The Centre for Integrated Photonics Ltd, a world-renowned developer of advanced photonic hybrid integrated circuits and InP-based opto-electronic chips, devices, arrays and modules for the communications, defense and renewable energy markets. With integrated state-of-the-art research, fabrication, coating, test, validation and production facilities, as well as strategic partnerships with volume packaging providers, CIP Technologies develops the photonic products of tomorrow. CIP Technologies' uniquely broad range of competencies is based on world-renowned research, and includes III-V photonic materials, silicon micromachining, planar silica waveguides and network architecture design and analysis. For more information visit www.ciphotonics.com

CIP Technologies

Phoenix House

Adastral Park

Martlesham Heath

Ipswich

IP5 3RE

UK

t +44 (0)1473 663210

f: +44 (0)1473 663295

info@ciphotonics.com

www.ciphotonics.com

More from Electrical Equipment & Systems