Computer and Communication Terminals
Operator Interface Terminal offers 24- or 40-key keypad.
Press Release Summary: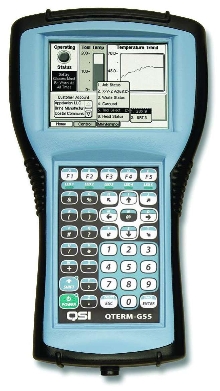 Lightweight, handheld QTERM-G55 uses screen graphics and keypad to interface with user. It can be equipped with two EIA-232, -422 or -485 serial ports; Ethernet 10Base-T or Power-over-Ethernet interface. Unit has 320 x 240 pixel, grayscale, graphic LCD display and is viewable in most lighting conditions. QTERM-G55 uses Qlarity(TM) object-based programming language and includes 2 Mbytes flash/16 Mbytes SDRAM, programmable speaker, and real-time clock.
---
Original Press Release:

QSI Corporation Announces QTERM-G55 - New Handheld Graphic Terminal


SALT LAKE CITY, UTAH. March 2004. QSI Corporation, manufacturer of rugged operator interface terminals, announces the QTERM-G55 handheld graphic operator interface terminal. The QTERM-G55 is the newest addition to QSI's family of award-winning Qlarity(TM) terminals and will be available in early-March 2004.

The QTERM-G55 is a rugged, lightweight, handheld terminal using screen graphics and a keypad to interface with the user. The QTERM-G55 can be equipped with two EIA-232, -422 or -485 serial ports; Ethernet 10Base-T or a Power-over-Ethernet (IEEE 802.3af) interface. The unit has a 320 x 240 pixel, grayscale, graphic LCD display (other screen types will be supported in the future) and is viewable in most lighting conditions. Other industrial-grade features include 24-key or 40-key membrane / steel snap dome keypad with LEDs; 2 Mbytes flash / 16 Mbytes SDRAM; programmable speaker and real-time clock. The G55 is ruggedized for use in harsh industrial environments (NEMA-4, drop tested) and has an overmolded rubber boot for shock protection around an ABS polycarbonate plastic case.

The QTERM-G55 uses an object-based graphic terminal programming language called Qlarity(TM) (pronounced Clarity). Designing a simple control panel interface or a complete stand-alone application has never been easier. The ability to use pre-defined objects, edit existing objects or author your own objects provides flexibility to the novice and expert alike. Qlarity Foundry(TM), a PC-based design tool provides a Windows® environment for screen creation, application simulation, debugging and downloading to the QTERM-G55.

The QTERM-G55 will be available in a panel-mount version in the near future. For more information contact QSI Corporation at 801-466-8770, Fax 801-466-8792, Email info@qsicorp.com, Web www.qsicorp.com or www.qlarity.com. Graphic images of the QTERM-G55 can be downloaded from press.qsicorp.com

About QSI Corporation
Established in 1983, QSI Corporation is a manufacturer of rugged graphic and character operator interface terminals for OEM, vehicle, commercial and industrial applications. QSI Corporation provides serial (EIA-232, -422, -485) and Ethernet-enabled terminals as well as industrial computers running various operating systems. Custom or semi-custom terminals withstand high levels of shock, vibration, humidity, and other environmental parameters. All QSI Corporation products are manufactured in the USA at the company's headquarters in Salt Lake City, Utah. For more information, contact QSI Corporation at 801-466-8770 or info@qsicorp.com.

For more information, contact:
Stephanie Kreitner
Marketing Specialist
marketing@qsicorp.com
801-466-8770
Web: www.qsicorp.com


More from Mechanical Power Transmission