Operator Interface Panels support visualization and HMIs.
Press Release Summary: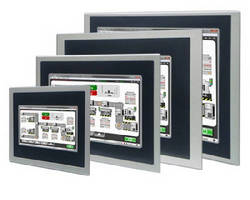 Offered in screen sizes from 4.3–15 in., AIS Compact Web-Based and ARM-Based HMI Solutions are suitable for applications that require monitoring, controlling, and displaying information in dynamic ways, where operators must quickly understand machine status and make correct decisions. Units come in Web and Windows CE-based models with integrated CPU, RAM, storage, USB, RS232, RS422/485, and Ethernet ports. NEMA 12, 4X, 4, IP52, IP54, and IP66 ratings are available.
---
Original Press Release:

AIS Announces Cost-Effective Operator Interface Panel Solutions for Your Visualization and HMI Applications



NEWS HIGHLIGHTS

• Operator Interface Terminals Function Quickly and Efficiently

• Open Architecture, Highly Scalable And Distributed Networking Model

• Cost-Effective,Out Of The Box, Simple To Develop And Easy To Maintain



IRVINE, California - American Industrial Systems Inc. AIS, an ISO 9001:2008 is a certified supplier and manufacturer of cost-effective Operator Interface Terminals that are reliable, durable, and provide industrial OEMs with vast selection of technologies and solutions that help simplify PLC, HMI or SCADA applications. AIS Compact Web-Based And ARM-Based HMI Solutions are among the most versatile operator interface choices for visualization and HMI applications in the market today. AIS HMI terminals are ideal for applications that require monitoring, controlling and displaying information in dynamic ways, where operators must quickly understand machine status and make better decisions. These Graphic Operator Interface Terminals are ideally designed for use in Process and Discrete Manufacturing, Industrial Automation and Process Control applications, among others. AIS full-range selection of HMI displays are currently offered in screen sizes from 4.3" to 15".



"Finding the most economical visualization and HMI product for your application can be outright challenging. AIS has multiple combinations of vital product solutions that will easily help youmanage and control your visualization and HMI project's budgets," said Nelson Tsay, President of AIS. "Beginning with mechanical design, system platforms, add-on options, to post-sales support; AIS can take your project from start to finish in record time with substantial cost savings. With a full-range product line available, there are multitudes of pre-designed and configured solutions that reduce development time, engineering, project costs and overhead, and effectively shorten your time to go-to market."



Features and Benefits:

• Flexible, reliable, and ruggedized for open platform HMI.

• Web and Windows CE-based with integrated CPU, RAM, storage, USB, RS232, RS422/485 and Ethernet ports.

• Compact web-based thin clients for faster, better and lower-cost HMI applications.

• Ruggedized levels of NEMA 12, 4X, 4, IP52, IP54, IP66 ratings.

• Technical support for drivers, hardware, troubleshooting procedures and general system issues.

• Customer service and sales support for product selection, order management, and warranty status.



Discover AIS' Quick and Efficient Operator Interface Terminals by clicking these links below:

• HMI Graphic Operator Interface Terminals

• HMI Compact Thin Clients



About American Industrial Systems, Inc. (AIS)

AIS is a leading global designer and manufacturer of specialty Industrial Panel PCs, Rugged Panel Computers, Industrial Monitors, Rugged Displays, Operator Interface Terminals, Military Embedded Computing, And Outdoor Digital Signage Display System solutions for customers in the Government, Aerospace, and Defense, Building Automation, Chemical and Petrochemical, Food and Beverage, Oil and Gas, Packaging, Pharmaceuticals, Utilities, Water and Waste Water, and Wind Power markets. AIS specializes in designing and manufacturing cost-effective LCD and embedded computing products for the industrial market, as well as ODM/OEM applications worldwide. Whether your vision involves off-the-shelf displays or highly customized embedded computing solutions, AIS can supply the experience, technology, and resources needed in building it right and getting you to market first. For additional information on AIS products and services, please call AIS toll-free at 1-888-485-6688 and/or visit our newly-designed website at: www.aispro.com.



Contact

American Industrial Systems, Inc. (AIS)

Santiago Consunji at 949-681-7463

Santiago.Consunji@aispro.com

More from Material Handling & Storage