Operational Amplifiers suit portable medical equipment.
Press Release Summary: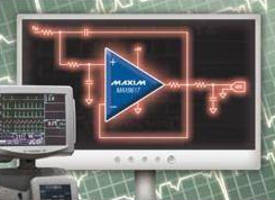 Models MAX9617 and MAX9618 zero-drift, rail-to-rail operational amplifiers are packaged in 6-pin SC70 and 8-pin SC70 packages, respectively. They feature 10 µV input-offset voltage, input-voltage noise of 1 µVP-P from 0.1-10 Hz, as well as 5 nV/°C input-offset-voltage drift. Consuming 59 µA of quiescent current per amplifier, units are specified for temperatures from -40 to +125°C. Amplifiers have rail-to-rail inputs and outputs and operate from 1.8-5.5 V supplies.
---
Original Press Release:

Zero-Drift, Rail-to-Rail OP Amps Deliver High Precision to Portable Medical Equipment



Zero-drift op amp's high precision is ideal for portable medical equipment.

SUNNYVALE, CA - November 5, 2009 - Maxim Integrated Products (NASDAQ: MXIM) introduces the MAX9617/MAX9618*, zero-drift, rail-to-rail operational amplifiers. Packaged in 6-pin SC70 (single) and 8-pin SC70 (dual) packages, these devices deliver outstanding precision and low-noise performance while minimizing solution size. Additionally, the MAX9617/MAX9618 offer best-in-class power consumption to enable a new generation of portable medical devices. The Company's proprietary BiCMOS process technology and patent-pending design architectures enable these devices to achieve this excellent combination of size, power, and accuracy.

Designed to operate from 1.8V to 5.5V supplies, the MAX9617/MAX9618 are ideal for a wide variety of portable medical applications in which high accuracy and low quiescent current are critical. They are also well suited for industrial applications, such as loop-powered systems, that require a combination of low power and precision.

Cutting the Cord: Medical Devices Go Mobile

Advances in medical technology, along with rising healthcare costs, are propelling a move from clinical to outsourced care. From pulse oximetry to ECG imaging, the point of diagnosis is shifting from clinical labs to doctors' offices to homes. Driven by these tailwinds, the home medical market is expected to grow with a 9% CAGR over the next five years, building upon a $15 billion electronic spend in 2009.**

The Challenges of Miniaturization

System designers face the difficult task of scaling equipment that typically weighs upwards of 50 pounds into portable form factors that weigh under 10 pounds. They must also reduce equipment costs to allow dispersed deployment within the field, while minimizing power consumption to enable battery operation. And, because medical equipment comprises life-critical applications, designers must meet these requirements without compromising performance.

Precision and Low Noise Are Critical for Medical Applications

Operational amplifiers that deliver precision and low-noise performance are key components in sensitive medical equipment.

Electrocardiograms, for example, must be able to measure electrical signals generated by the heart through electrodes placed on the skin. The analog front-end needs to isolate these extremely small signals (0.1mV to 6mV) from an electrically noisy corporeal environment, which is typically characterized by a 300mV DC offset component and 1.5V common-mode component. Additionally, the low-frequency region of interest (0.05Hz to 150Hz) is susceptible to noise from power lines (50Hz) and other sources of electromagnetic interference.

Since the front-stage amplifier must boost the biological signal several thousand times for display on a monitor, the amplifier must have a very high CMRR; ultra-low input-offset voltage, bias current, and input-voltage noise; as well as minimal 1/f noise.

Patent-Pending Technology Enables Industry-Leading Speed-to-Power Ratio

Maxim's patent-pending autozero technique enables the MAX9617/MAX9618 to meet all of these performance requirements while minimizing power consumption and footprint for portable medical applications.

This patent-pending technology achieves both a 10µV (max) input-offset voltage and an input-voltage noise of 1µVP-P from 0.1Hz to 10Hz. Designed to have minimal 1/f noise, the devices facilitate accurate low-frequency measurements and allow for optimization of active filter designs. Moreover, the precision of the MAX9617/MAX9618 will not degrade with time and temperature, as they both feature very low (5nV/°C, typ) input-offset-voltage drift.

The devices consume a mere 59µA of quiescent current per amplifier to extend battery life in portable equipment. Competing "zero drift" operational amplifiers with bandwidth greater than or equal to 1MHz typically consume 10x more quiescent current. The industry-leading speed-to-power ratio of the MAX9617/MAX9618 allows use in a wide range of applications without compromising customer power budgets.

Summary of MAX9617/MAX9618 key features

o Low 59µA quiescent current

o Precision 10µV (max) input-offset voltage

o Low input noise

- 42nV/ at 1kHz

- 1µVP-P from 0.1Hz to 10Hz

o Rail-to-rail inputs and outputs

o 1.5MHz GBW

o Low 10pA input bias current

o Single 1.8V to 5.5V supply voltage

o Available in tiny 6-pin SC70 (MAX9617) and 8-pin SC70 (MAX9618) packages

The MAX9617/MAX9618 are fully specified for operation over the -40°C to +125°C automotive temperature range. Prices start at $0.85 (1000-up, FOB USA). For more information please visit: www.maxim-ic.com/Zero-Drift-Amps.

Maxim Integrated Products is a publicly traded company that designs, manufactures, and sells high-performance semiconductor products. The Company was founded over 25 years ago with the mission to deliver innovative analog and mixed-signal engineering solutions that add value to its customers' products. To date, it has developed over 6100 products serving the industrial, communications, consumer, and computing markets.

Maxim reported revenue in excess of $1.6 billion for fiscal 2009. A Fortune 1000 company, Maxim is included in the Nasdaq 100, the Russell 1000, and the MSCI USA indices. For more information, go to www.maxim-ic.com.

More from Software