Operational Amplifier requires only 1.6 mA supply current.
Press Release Summary: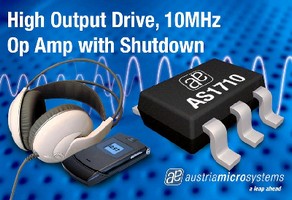 Operating from single 2.7-5.5 V supply, Model AS1710 can swing to within 100 mV from rails while sinking or sourcing 50 mA of output current. Large short-time loads are covered with peak current of greater than 200 mA. Available in 6-pin SC70 package for -40 to +125°C operating environments, device features 10 MHz unity gain bandwidth and 10 V/µs slew rate. It is suited for headphone or speaker drivers, hands-free kits, TFT panels, sound ports, and DAC buffers.
---
Original Press Release:

austriamicrosystems Introduces High Output Drive, 10MHz, 10V/µs Rail-to Rail I/O Operational Amplifier



AS1710 operational amplifier is ideal for applications like headphone or speaker driver, hands-free kits, TFT panels, sound ports, DAC buffers and other items where high output drives and high slew rates are vital

Unterpremstaetten, Austria (3 July, 2007) - austriamicrosystems (SWX: AMS), a leading global designer and manufacturer of analog integrated circuits (ICs) for communications, industrial, medical and automotive applications announced today the introduction of the AS1710. This new product sees austriamicrosystems improving on the performance of comparable amplifiers.

The AS1710 operational amplifier operates from a single +2.7V to +5.5V supply and can swing to within 100mV from the rails while sinking or sourcing 50mA of output current. Large short time loads common in various applications as in audio amplification are covered with a peak current of >200mA. The device also features 10MHz unity gain bandwidth and a 10V/µs slew rate.

Offering improved output drive capability and showcasing austriamicrosystems' low power consumption capabilities the AS1710 requires only 1.6mA of supply current and remarkable 1nA while in shutdown (AS1710B).

"With a typical input bias current of only 50pA the AS1710 is ideal for very low power circuits and high ohmic sensors," said Walter Moshammer, marketing director for standard linear at austriamicrosystems.

The AS1710 is available in a 6-pin SC70 package suitable for operating environments ranging from -40°C to +125°C. Product specific information can be downloaded from the website at http://austriamicrosystems.com/03products/products_detail/AS1710/description_AS1710.htm

About austriamicrosystems
austriamicrosystems is a leading designer and manufacturer of high performance analog ICs, combining more than 25 years of analog design capabilities and system know-how with its own state-of-the-art manufacturing and test facilities. austriamicrosystems leverages its expertise in low power and high accuracy to provide industry-leading
customized and standard analog products. Operating worldwide with more than 1,000 employees, austriamicrosystems focuses on the areas of power management, sensors & sensor interfaces, portable audio and car access in its markets Communications, Industry & Medical and Automotive, complemented by its Full Service Foundry activities. austriamicrosystems is listed on the SWX Swiss Exchange in Zurich (ticker symbol: AMS).

For more information, please visit the web site at www.austriamicrosystems.com.

Electronic picture and block diagram are available on request or at
http://austriamicrosystems.com/07presscenter/presscenter_start.htm

For further information:
Technical Contact
austriamicrosystems AG
Manfred Kogler
Marketing Manager Standard Linear
Tel: +43 (0) 3136 500 5274
Fax: +43 (0) 3136 500 5420
manfred.kogler@austriamicrosystems.com
www.austriamicrosystems.com

Related