Open Source Wood Winner: Kokoon Modular Housing System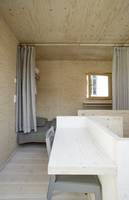 WASHINGTON, July 24, 2018 /PRNewswire/ -- Kokoon is a clever, modular building system designed for temporary accommodation in urban contexts. The modules can be easily transported and stacked in various configurations to fit different needs. The prototypes of Kokoon were designed and constructed by the Wood Program Studio at Aalto University's School of Arts, Design and Architecture in Finland. Kokoon was one of the winners of Metsä Wood's Open Source Wood award. Open Source Wood is a ground-breaking platform that collects designs for wooden elements and connects professionals in wood construction.
The first Kokoon modules were prefabricated in 2016 at the Aalto University Architecture workshop in Otaniemi, Espoo. The design team explored several options for the wood material to construct the modules. Metsä Wood's Kerto® LVL (laminated veneer lumber) was chosen as the main material because of its material efficiency. The properties of Kerto LVL Q-panels allowed for a relatively compact wall structure, providing more living space within the module.
"I think this is a great idea showing how modular living can help in providing temporary housing for families," says Frank Werling, Head of Technical, Engineering and Design, Metsä Wood, and a member of the award jury. "This concept is an example of how to achieve flexible and functional temporary accommodation with Kerto. Kokoon modules are also adaptable for larger housing units and on an industrial scale," Werling continues.
The prefabricated modules are structurally designed to be self-supporting, as well as supporting the weight of up to two modules above. Four glulam columns, one at each corner, transfer the load down through the assembled modules. Additional diagonal bracing was not required due to the strength and stiffness of the Kerto LVL Q-panels.
Efficiency with off-site wood construction
The use of prefabricated wooden elements makes construction more efficient and improves the quality of construction projects, as most of the work is done indoors in a controlled environment. Especially the use of Kerto LVL makes construction faster, lighter and greener. The Kokoon prototype modules were prefabricated off-site at the Aalto University Architecture workshop in Otaniemi, Espoo. The modules were transported to the construction site, where they were stacked, connected and finalized.
"Prefabrication gives us possibilities to minimize the construction time on site, and to improve the final quality of the product we are providing to our users," says Philip Tidwell, a teacher in the Wood Program at Aalto University.
Kerto LVL on the move
The modules have proven to be relatively easy to disassemble and transport, having been relocated four times to different sites around the Helsinki area. Kokoon modules have been on display at the Museum of Finnish Architecture and on the grounds of the music festival Flow. Though they have been lifted and transported several times, the rigidity of the modules provided by the Kerto LVL Q-panels has allowed them to remain in excellent condition.
Open Source Wood
Metsä Wood's Open Source Wood is a collaboration platform for architects and engineers to share their innovations in modular wood construction. The best innovations using Kerto LVL, like Kokoon, receive awards from Open Source Wood's panel of experts. The aim of the initiative is to facilitate knowledge sharing and collaboration in modular wood construction. To browse the uploaded designs and to share your own ideas, visit Opensourcewood.com.
Read more about the Kokoon modular housing system.
For more information, please contact:
Viivi Kylämä
Marketing Manager
Metsä Wood
tel. +358-40-820-9850
viivi.kylama@metsagroup.com
Metsä Wood provides competitive and environmentally friendly wood products for construction, industrial customers and distributor partners. We manufacture products from northern wood, a sustainable raw material of premium quality. Our sales in 2017 were EUR 0.5 billion, and we employ about 1,400 people. Metsä Wood is part of Metsä Group.
More from Architectural & Civil Engineering Products