Open Platform Touchscreen HMIs deliver SCADA versatility.
Press Release Summary: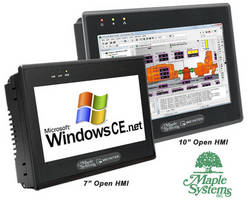 Running pre-installed Windows® CE, fanless 7 and 10 in. widescreen Open HMIs support remote data entry and monitoring applications as well as scenarios requiring support for multiple devices. Each unit has 16:9 widescreen LED display with 800 x 400 pixel resolution and 65,000 colors. Combination of 128 MB Flash, 64 MB DRAM, and 400 MHz, 32-bit RISC processor streamlines response times, while Ethernet, USB, and Serial COM ports as well as SD card slot and audio jack provide connectivity.
---
Original Press Release:

New Open-Platform HMIs Offer SCADA Versatility, Web-Based Features, and UL Certification



(Everett, WA) - Maple Systems, a leading manufacturer of industrial operator interface products, released two new UL-listed Touchscreen Open HMIs - 7 and 10 inch high-resolution widescreens that run a pre-installed version of Windows CE. These units fit the bill when you need more capability and versatility than a standard HMI, but don't need or have the budget for a full-scale industrial panel PC.

The 16:9 widescreen high-resolution displays of these new additions offer 30 percent more viewing area than the 4:3 standard screens of similar size. That means 30 percent more room for applications, graphics, text, and buttons etc. And the clarity of those graphics is augmented by the 800 x 400 pixel screen resolution, the 65 thousand colors of the LED display, and the RISC processor that handles graphic rich applications - like Maple's powerful SCADA software - Web Studio.

Windows CE is more affordable and requires less ram than XP, and so with 128 MB of Flash Memory and 64MB of DRAM, the 400 MHz 32 Bit RISC Processor hums right along and ensures quick application response times.

With enhanced connectivity, these innovative Open HMIs come with an Ethernet Port, USB Ports, three Serial COM Ports, an SD Card Slot, and an Audio Jack. With this enhanced connectivity and the resident web browser of Windows CE, these new arrivals grant you the versatility and capability that you would normally find in units costing thousands more. And the hardware can be enhanced by connecting an external keyboard, mouse, printer, printer, and external speakers etc.

With their preloaded web browser, Ethernet connectivity and optional Web Studio Software, these Open HMIs are fully capable of remote data entry, remote monitoring, and scenarios that require support for multiple devices. And of course the operating system means you have software options far beyond the proprietary configuration software of a standard HMI.

Sleekly designed but durable these units are CE certified, RoHS Compliant , and UL listed for both Canada and the US. Because of that durability and reliability, these units can withstand operation in temperatures ranging from 32 degrees to 113 degrees Fahrenheit (0 to 45 degrees Celsius), and they operate in a non-condensing relative humidity range of 10 to 90 percent. In fact, they can even withstand the rigors of water jet spraying when properly installed into a NEMA4 rated panel

In addition, these quiet fanless models draw only 12 watts of electricity, so they produce less heat than a full-scale industrial panel PC. As a result they do well in tight spaces or sealed environments where the airflow needed for a panel PC's cooling fan would be more restrictive. As an additional bonus, the lack of a cooling fan eliminates the damaging dust and particulates that would otherwise be drawn into the circuitry.

These new Open-Plaftorm HMIs are attractively priced, and you can learn more about them on Maple's website at www.maplesystems.com. Or if you'd like to talk to a Sales Engineer, you can call 425-745-3229.