Open LED Protector increases lighting string reliability.
Press Release Summary: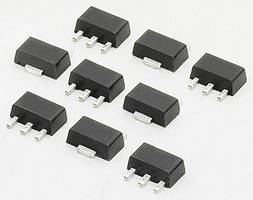 Supplied in SOT-89 package, PLED5HT Series maintains LED string brightness while providing reliability for outdoor and high-intensity LED applications with current draw up to 700 mA. Voltage-triggered electronic shunt device provides current bypass in case of single LED failing into open circuit condition, ensuring against loss of entire string due to one LED failure. RoHS-compliant product also protects against ESD events and accidental reverse battery or power connection.
---
Original Press Release:

Littelfuse Introduces PLED5HT Series Open LED Protector that Keeps LED Strings Lighted and Protects Them from Damage



New open LED protector in SOT-89 Package also provides ESD and reverse polarity protection

CHICAGO, Illinois - Littelfuse, Inc. (NASDAQ/NGS:LFUS) has introduced the PLED5HT Series circuit protection device that increases LED lighting string reliability. This new device, available in an SOT-89 package, maintains LED string brightness while improving LED reliability for the growing market for outdoor LED lighting and high-intensity LED applications with current draw up to 700 mA.

The PLED5HT Series design is a voltage-triggered electronic shunt device that provides a current bypass in the case of a single LED failing into an open circuit condition. The design ensures against the loss of an entire string of LEDs due to the failure of a single LED. It also provides protection against electrostatic discharge (ESD) events and accidental reverse battery or power connection.

The PLED5HT Series is RoHS compliant and halogen free, and the SOT-89 package makes for easy mounting and good heat dissipation.

PLED5HT Series devices provide the most advanced protection Littelfuse offers for the new generation of outdoor-use LED lighting applications. Designed to serve applications such as LED advertising and traffic signs, roadway/pathway/runway lighting, and aircraft and emergency lighting, PLED Series devices help ensure reliability.

Compared with conventional LED protection measures, Littelfuse PLED5HT Series devices offer a simpler and more economical circuit design. For example, they help to reduce LED color unevenness, prevent voltage level sags in the power supply, and consume less energy than zener diodes used to perform similar protection functions.

Key features and advantages of the PLED5HT Series device include:


Brightness of the LED string is maintained if a single LED in the string fails open.

Small SOT-89 footprint makes them inconspicuous and easy to place, while providing good heat-dissipation.

A PLED5HT Series device has a lower power dissipation than the LED, reducing total system power.

3-in-1 protection (open-defect protection, ESD protection and reverse battery/power supply polarity protection).

Open LED defects can be controlled without negatively affecting power supply voltage.

Ideal for outdoor lighting fixtures where maintenance cost is high.

Fast switching compatible with pulse width modulation supplies.

Auto-reset after power cycle or if the LED heals itself or is replaced.

Availability

PLED5HT Series samples are available now for order and sample request through authorized Littelfuse distributors worldwide, 8-10 weeks ARO, in 1000-quantity reel package.

For More Information

For more information about the PLED5HT Series, please visit the Littelfuse web site at www.littelfuse.com/products/LED+Protectors/LED+Protector/PLED+5HT+SOT-89.html or contact your local Littelfuse Technical Support expert.

Product page:

http://www.littelfuse.com/products/LED+Protectors/LED+Protector/PLED+5HT+SOT-89.html?cm_mmc=ThomasNet-_-thomasnet.com-_-News%2FPress+releases-_-PLED5HT+Series

More from Communication Systems & Equipment