Open LED Protector improves reliability of lighting strings.
Press Release Summary: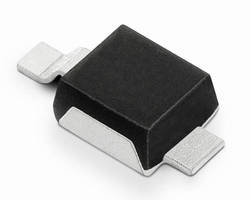 Designed for use with 1 W LEDs, nominally 350 mA, 3 V, PLED6M Series LED protector offers switching electronic shunt path when diode in LED string fails as open circuit. Unit has turn-on voltage of 7.5 V and on-state voltage of 1.2 V, minimizing steady state power dissipation following LEDÂ open failure. It automatically resets if LED resumes normal operation or power is cycled. Applications requiring uninterrupted illumination, such as street, subway, and vehicle lighting, are supported.
---
Original Press Release:

PLED6M Series Open LED Protectors Keep LED Strings Working When an Individual LED Fails as an Open Circuit



Helps Ensure Greater Lighting Reliability for Critical Applications



CHICAGO — Littelfuse, Inc., the global leader in circuit protection, has developed a new line of open LED protectors optimized to provide superior protection against open LEDs (Light Emitting Diodes). The PLED6M Series LED protector is designed to provide a switching electronic shunt path when an LED in an LED string fails as an open circuit. This ensures that the entire array of LEDs will continue providing illumination even if a single LED in the string fails. The new LED protectors provide greater lighting reliability in applications where uninterrupted illumination is critical, such as street, subway, runway, and tunnel lighting, as well as vehicle headlights, roadside warning lights, and outdoor signage.



The PLED6M Series is designed for use with one-watt LEDs, nominally 350mA, 3V. A low turn-on voltage of 7.5V (max) allows for fast switching after an LED opens. In addition, the on-state (bypass) voltage of 1.2V (max) reduces the steady state power dissipation following an LED open failure and is housed in a small form factor Powermite® package. The PLED6M Series LED Protectors offer LED array designers a variety of key benefits:

• Provides an electronic shunt/bypass for open LEDs, allowing LED strings to keep functioning, even if one LED in the set fails as an open circuit.

• Automatically resets if the LED heals itself or the power is cycled, for low maintenance and high reliability.

• The low profile, small footprint POWERMITE® package provides maximum heat dissipation and greater layout flexibility, making it ideal for dense board applications.

• Supports high-brightness in outdoor LED applications.

• RoHS compliant, which ensures they are an environmentally friendly product.



Chad Marak, manager of the Littelfuse PLED product line, notes, "The PLED6M open LED protector will appeal to anyone who designs and manufactures outdoor lighting or signage that requires strings of high-brightness LEDs with high reliability and low maintenance requirements."



The PLED6M Series LED Protector is available in standard tape and reel packaging. The minimum order quantity is 3000.



About Littelfuse

Founded in 1927, Littelfuse, Inc., the worldwide leader in circuit protection, offers the industry's broadest and deepest portfolio of circuit protection products and solutions. Littelfuse devices protect products in virtually every market that uses electrical energy, from consumer electronics to automobiles to industrial equipment. In addition to its Chicago, Illinois, world headquarters, Littelfuse has more than 30 sales, distribution, manufacturing and engineering facilities in the Americas, Europe and Asia. Technologies offered by Littelfuse include Fuses; Gas Discharge Tubes (GDTs); Positive Temperature Coefficient Devices (PTCs); Protection Relays; PulseGuard® ESD Suppressors; SIDACtor® Devices; Silicon Protection Arrays (SPA™); Switching Thyristors; TVS Diodes and Varistors.  The company also offers a comprehensive line of highly reliable Electromechanical and Electronic Switch and Control Devices for commercial and specialty vehicles, as well as Protection Relays and underground Power Distribution Centers for the safe control and distribution of electricity.



For more information, please visit the Littelfuse website: littelfuse.com.



LFUS-P



Littelfuse, Inc.

8755 West Higgins Road

Chicago, IL 60631

USA



Technical Contact:

Chad Marak

Product Manager, PLED

cmarak@littelfuse.com



Media Contact:

Rhonda Stratton

Marketing Communications Manager

Littelfuse, Inc.

1-773-628-0644

rstratton@littelfuse.com



More from Optics & Photonics