Open High-Field 1.2T MRI increases patient-centric care.
Press Release Summary: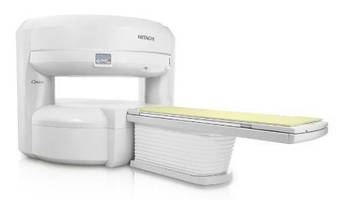 Accommodating patients up to 300 kg on 82 cm wide table that features in-gantry lateral movement, SoftSound technology, and multiple coil connections, OASIS® offers features that prevent delays while optimizing workflow management. Design facilitates patient access and optimizes view of patient and progress of complete scanning procedure. In addition to facilitating examination planning, features foster process automation while optimizing sustained throughput and interoperability.
---
Original Press Release:

Hitachi Medical Systems Europe Launches the New Generation of OASIS*- The World's Most Powerful Open High-Field 1.2T MRI - A New Level in Patient-Centric Care



VIENNA -- Hitachi Medical Systems Europe is proud to announce the new generation of OASIS at ECR 2015 - the open high-field 1.2T MRI with enhanced processing power will set a benchmark for patient-centric care. The new features of OASIS help to overcome obstacles and prevent delays whilst optimizing workflow management and costs. OASIS demonstrates the high levels of efficiency, quality, patient comfort and safety for imaging in Neurology, Orthopaedics, Paediatrics, Oncology, Vascular and General Imaging, as well as Men's and Women's Health applications. Easy patient access makes OASIS highly suitable for interventional procedures. "We are very pleased to bring with the new generation of OASIS our patient-centric philosophy to new levels in open high-field MRI," said Mr Keiichi Yusa, Director of the MR/CT Division, Hitachi Medical Systems Europe.



Outstanding patient comfort

The 270degree(s) viewing angle allows the patient an unobstructed panoramic view and a positive examination experience. Simultaneously, the operator has a clear view of the progress of the complete scanning procedure. The spacious set-up and calming atmosphere put claustrophobic, paediatric and bariatric patients up to 300 kg at ease and the peaceful, ambient illuminated gantry helps to relax patients. The extra wide patient table (82 cm) with in-gantry lateral movement, modern SoftSound technology for silent gradients and multiple coil connections offer efficient support for the operator allowing rapid, patient-friendly exams.



Power for high efficiency

OASIS offers a highly advanced imaging platform, equipped with workflow-oriented features and advanced clinical capabilities. The Origin Clinical Study Library, Graphical User Interface (GUI), Intelligent Parameter Guidance and Real-time Image Quality Calculator make planning of even the most complex examinations easy. Simultaneous scan, reconstruction and multi-tasked image processing keep throughput high and interoperability features ensure seamless PACS integration.



Next-level imaging capabilities to drive efficiency and quality

AutoPose automatically determines and places optimal main scan slice locations, ensuring high reproducibility and improving consistency in sequence planning - one button click examination. Isotropic volume acquisition (isoFSE 3D) with high SNR and resolution allows the reconstruction of slices in any plane, in any tissue contrast and in any anatomy - one scan for unlimited images. Additive Arrangement Gradient Echo (ADAGE) uses combinations of multiple echoes to create high SNR (Signal to Noise Ratio) and CNR (Contrast to Noise Ratio) images with reduced chemical shift - improved grey/white matter differentiation and fluid/cartilage visualization. A flexible, user selectable reconstruction matrix provides optimized image resolution.



Unique design and advantages at a glance

The innovative unique open and wide patient platform of the 1.2T high-field MRI is designed to increase patient comfort and reduce blur. "Putting patients at ease means reducing the need for repeat scans and decreases scan time while promoting higher diagnostic image quality. The open architecture is a truly valued and complementary tool for healthcare providers who have an array of scanners but consider this flexibility to be an essential offering for their service," said Mr Keiichi Yusa. "OASIS allows imaging centres and clinics to perform their exams more comfortably and efficiently."



* OASIS is a registered trademark or trademark of Hitachi Medical Corporation in EU and other countries.



About Hitachi Medical Corporation

Hitachi Medical Corporation, headquartered in Tokyo, Japan, is a wholly-owned subsidiary of Hitachi, Ltd. (TSE: 6501) and holds an important position in Hitachi Healthcare Group. The company is committed to delivering advanced solutions, including diagnostic imaging equipment that meets the needs of physicians and patients. URL: http://www.hitachi-medical.co.jp/english/index.html



About Hitachi Medical Systems Europe

Hitachi Medical Systems Europe Holding AG, located in Zug, Switzerland, is a 100% subsidiary of Hitachi Medical Corporation, based in Tokyo, Japan. The company is a first choice supplier of open and powerful high-field MRI systems, multi-slice CT systems as well as medical ultrasound and optical topography devices. Our broad experience and expertise in magnet, gradient and RF technology makes us a recognized leader in open MRI. We meet the latest in design and quality standards with truly comprehensive, patient-friendly systems that combine outstanding image quality with advanced clinical applications and unbeatable economic performance.



Hitachi Medical Systems Europe offers a complete range of imaging solutions to address a wide range of medical challenges. For more information about Hitachi Medical Systems Europe Holding AG, please refer to http://www.hitachi-medical-systems.eu



Contact

Hitachi Medical Systems Europe Holding AG

Romea Wallnoefer

Sumpfstrasse 13

CH-6300 Zug

Phone: +41-41-748-63-43

E-mail: r.wallnoefer@hitachi-medical-systems.com

More from Waste Management & Waste Handling Equipment