Industrial / Specific Purpose Computers
Open Frame Panel Computer speeds application development.
Press Release Summary: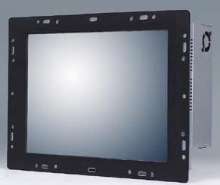 Modular OFPC-215 Series includes touch panel monitor with computer system box joined together. Unit is scalable from Pentium III CPUs up to 1.26 GHz for Multimedia support to VIA low-power processor. Unit simplifies cabling issues, I/O configuration, and chassis design. Function set includes support for SDRAM up to 512 MB, two 3.5 in. HDD bays, PCI and PC/104 expansion, two USB ports, parallel port, four serial ports, and 100Base-T Ethernet.
---
Original Press Release:

Advantech's Highly Flexible Open Frame Panel Computer Speeds Application Development


Irvine, CA, Oct. 10, 2003 - Advantech Co. Ltd., delivering hardware and software solutions that empower the e-world, has released the OFPC-215 Series Open Frame Panel Computer, the newest model of our reengineered Open Frame PC line designed to provide customers with maximum flexibility, performance and integration ease. The OFPC-215 Series includes a touch panel monitor with a computer system box joined together, perfect for integration into large, more complex systems. Because of the OFPC-215's modular design, customers can choose the right SBC/LCD Panel configuration that suits their application needs best, plus use numerous third party components. The modular design allows for easy upgrades and the flexibility to be easily adapted to different housings as well. Scalable from Pentium III CPUs up to 1.26 GHz for increased Multimedia support, to a VIA low power processor for reduced cost and lower power usage, the OFPC-215 simplifies cabling issues, I/O configuration and chassis design.

Great Flexibility and Scalable
Advantech Open Frame computers are designed to fit anywhere developers have space or environment constraints. Flexible and interchangeable choices are key to meeting niche application needs. The OFPC-215 is based on our industrial-proven box PC series that offer a choice of integrated SBCs that can go into housings and be easily mounted on or into equipment. Our LCD touch monitors have been used in the harshest environments, including HMI, kiosks and other applications, their steel, open frame design can also integrate customers' specific IDs (faceplates) for image and branding concerns.

Strong Stand-alone System
The OFPC-215 offers a versatile function set that includes support for 1x SDRAM up to 512 MB, 2 x 3.5" HDD bays, PCI and PC/104 expansion, 2 x USB ports, 1 x parallel port, 4 x serial ports, 1 x 100Base-T Ethernet, PS/2 keyboard and mouse ports, MIC-in, SPK-out, Line-in/out, DC-out (for LCD) and CD-audio in. The system is prime for expansion, with ordering options such as Giga-LAN, VESA mounting and CD-ROM/RW/Combo available. The unit accepts all major OS configurations, with embedded OS and driver support offered by Advantech.

Find Out More Today
If you need a highly reliable and scalable Open Frame Panel Computer to drive your kiosk or other dynamic embedded application, visit our website at www.advantech.com/ofpc, contact your local Advantech sales representative for more information on the OFPC-215, or send e-mail to ECGInfo@advantech.com

Advantech Co., Ltd. (Taidex: 2395) is the leading global ePlatform service provider integrating web-based hardware and software technology solutions and customization services that empower the connected eWorld. Advantech cooperates closely with system integrators to help them add value by meeting vertical market as well as custom requirements of customers in a wide array of industries. Advantech's Mission is to Empower Innovations in the Connected eWorld, delivering more than 450 products and solutions under 4 main categories: industrial I/O and communication, computing platforms, single board and panel computers, along with peripherals and components. Drawing on the talents of more than 1,800 people, Advantech operates an extensive sales and marketing network in 16 countries and 35 major cities to deliver fast time-to-market services to customers around the globe. Product or service names mentioned herein are the trademarks of their respective owners. Please visit us at www.advantech.com for more information.

More from Test & Measurement