Open Bottom PCB Receptacles feature organic fibre plugs.
Press Release Summary: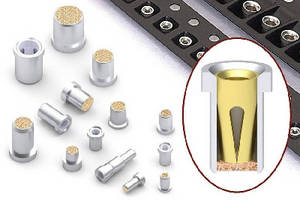 Available in 14 sizes/styles with precision-machined brass housing, OFP® Solder Barrier Receptacles are discrete sockets for through-hole soldering into printed circuit boards. Organic fibre plugs prevent solder, paste, or flux from contaminating internal contact during placing and soldering process. When device/mating lead is plugged into receptacle, OFP® is knocked out, allowing mating lead to pass through fingers of internal contact and make reliable electrical connection.
---
Original Press Release:

Mill-Max Expands Its Line of Receptacles with Organic Fibre Plug® Solder Barrier - 14 Styles Offered, Tape & Reel Packaged



Mill-Max's organic fibre plug (OFP®) solder barrier receptacles are discrete sockets for through-hole soldering into printed circuit boards. These open bottom receptacles are fitted with organic fibre plugs to prevent solder, paste or flux from contaminating the internal contact during the placing and soldering process. When the device/mating lead is plugged into the receptacle the OFP® is knocked out allowing the mating lead to pass through the fingers of the internal contact and make a reliable electrical connection. 14 sizes/styles are now available, 13 have standard tape & reel packaging. The advantage of tape & reel packaging for these receptacles is it permits through-hole components to be placed simultaneously with surface mount parts on pick-'n-place assembly lines - eliminating the need to hand place the receptacles in an additional manufacturing step. The OFP® barrier permits the sockets to be vacuum picked from the tape prior to placement in a hole in the circuit board.

The knock-out-bottom feature enables these sockets to be made relatively short compared to many similar receptacles. The reduced length provides two advantages: the receptacles can stand upright and stable in a carrier tape pocket and the protrusion through the PCB is minimal - especially important when working with SMT boards. The open bottom receptacle design eliminates the need to trim long device leads that would otherwise bottom out in a closed receptacle design and also makes them ideal for low profile board stacking applications via the ability to pass through.
The OFP® parts are available as discrete receptacles and, and can be supplied in bulk or on carrier tape per EIA-481 for industry standard pick and place machines.

All Mill-Max receptacles use a precision-machined brass housing with a press-fit beryllium copper "multi-finger" contact. (Intrusive reflow (also called "pin-in-paste") is a technique of using conventional through-hole components in a reflow soldering process. The receptacles are placed into plated-through holes (PTH) in the circuit board (solder paste has previously been screen printed on pads adjacent to the holes) and the board is reflowed in the same pass as other SMT components. Solder will fill the PTH and achieve solder joints as reliable as wave soldering. The OFP® barrier prevents solder paste from being picked-up inside the contact during pick 'n place assembly. "Overprinting" paste on the solder mask can be used to adjust the volume of paste required to fill each hole.)

Mill-Max is the leading US manufacturer of machined interconnect components with a vertically integrated manufacturing facility headquartered at 190 Pine Hollow Rd., Oyster Bay, NY 11771. Its full product line includes spring-loaded connectors, SIP, DIP, PGA and BGA sockets, board-to-board interconnects and pin headers, surface mount and custom products, PCB pins and receptacles, solder terminals, wrapost receptacles and terminals. The company's complete manufacturing facility includes engineering, tooling, primary and secondary machining, stamping, plating, injection molding, and assembly.


More from Controls & Controllers