Open Access Chassis accommodates 3U backplanes.
Press Release Summary: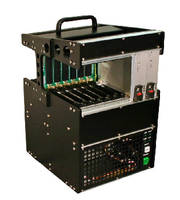 Designed without side or back walls around card cage area, E-Frame Chassis provides access for test and development. Unit includes carrying handle on top, front accessible test points, and monitoring LEDs for +3.3 V, ±5 V, ±12 V, ±24 V, and ±48 Vdc. With modular aluminum construction, tower can support up to 21 slots at .8 in. pitch or 17 slots at 1 in. pitch. Cooling is provided with three 150 cfm fans, which are speed-controlled with fan fail indication.
---
Original Press Release:

Elma Releases E-Frame Open Access Chassis for 3U Backplanes



FREMONT, California, Dec 22, 2008 - Elma Electronic Inc., a global manufacturer of electronic packaging products, has announced a new 3U version of its E-frame chassis line.

The E-frame has been available in heights for 6U backplanes and now accommodates 3U heights. The unit does not have side or back walls around the card cage area, providing easy access for test and development. The E-frame was designed with the high power and cooling requirements for VPX (VITA 46/48) systems. However, any backplane architectures in a 3U height can be used, including VME and CompactPCI.

The total height of the portable E-frame is approximately 9U, with a convenient carrying handle on top. With a rugged modular aluminum construction, the E-frame tower can support up to 21 slots at .8" or 17 slots at 1" pitch. There are front accessible test points and monitoring LEDs for +3.3V, +/-5V, +/- 12V, +/- 24V, and +/- 48VDC. The E-frame features high performance cooling with 3 x 150 CFM fans under the card cage. The fans are speed controlled with fan fail indication. A system monitor with remote monitoring via Ethernet capability is optional.

The black-coated powder coated finish of the E-frame enhances aesthetics. Other features include a Rear A/C PEM (Power Entry Module) with fuses, GND Stud, Front located ESD jacks. The unit also offers full RTM (rear transition module) support.

The lead-time is 4-6 weeks.

About Elma Electronic

Elma Electronic Inc. is a leading manufacturer and supplier of enclosures, backplanes, cabinets, cases, and "ready-to-run" packaging for ATCA, CPCI, MicroTCA, Rugged COTS, VME/64x, VXS, VPX, and custom bus structures. Elma's component product line offers a wide selection of top quality switches knobs and LED arrays. The company has been a worldwide supplier of dependable, high performance products for over 35 years. Elma operates three facilities in the continental United States plus has locations in Switzerland, Germany, France, the United Kingdom and Israel.

Elma Electronic Inc. is located at 44350 Grimmer Blvd., Fremont, CA 94538 USA. Telephone (510) 656-3400 - Fax (510) 656-3783. www.elma.com

Lorna Singh

Marketing Coordinator

Main: +1 510-656-3400 X 10301

Direct / Fax: +1 510-683-8301

Fax: +1 510-656-3783

E-Mail: lorna.singh@elma.com

WWW: http://elma.com/us