OPC Server Software retrieves CNC machine production data.
Press Release Summary: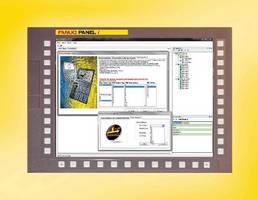 Designed specifically for communicating with FOCAS-enabled FANUC CNCs, FASOPC gets machine production data out of CNC and off shop floor. Configuration utility's intuitive user interface utilizes wizards designed for FANUC CNC to guide user through processes of setting up all controls. Once control type is identified, data only relevant to that control type is presented to user. There is no need for additional knowledge of FANUC CNC capabilities to use FASOPC.
---
Original Press Release:
Fanuc Introduces FASOPC for Easy Retrieval of CNC Machine Production Data
HOFFMAN ESTATES, IL - FANUC FA America introduces FASOPC for easy retrieval of CNC machine production data.  FASOPC is an OPC server designed specifically for getting machine production data out of your FANUC CNC and off the shop floor – easier than ever before.

OPC has been an industry standard for years, and many industrial software packages have built-in support for OPC specifically for data retrieval. These systems can now be connected to a FANUC CNC with ease.

FASOPC server is designed exclusively for communicating with FOCAS enabled FANUC CNCs to efficiently read and write data. The configuration utility's intuitive user interface utilizes wizards specifically designed for the FANUC CNC to guide you through the processes of setting up all of your controls. Once a control type is identified, then data only relevant to that control type is presented to the user. There is no need for additional knowledge of FANUC CNC capabilities to use FASOPC.

FASOPC supports OPC DA specification 3.0, 2.0, and 1.0 giving it the flexibility to serve data to most OPC clients on the market today.

About FANUC CORPORATION
FANUC CORPORATION, headquartered at the foot of Mt. Fuji, Japan, is the most innovative manufacturer of Factory Automation (FA), Robots and Robomachines in the world. Since its inception in 1956, FANUC has contributed to the automation of machine tools as a pioneer in the development of computer numerical control equipment. FANUC technology has contributed to a worldwide manufacturing revolution, which evolved from the automation of a single machine to the automation of entire production lines. FANUC is committed to developing efficient, reliable and innovative products.

About FANUC Factory Automation America (FANUC FA America)
FANUC FA America is the exclusive provider of industry leading FANUC CNC systems and solutions in the Americas, providing a one-stop shop for comprehensive CNC solutions including industry-leading control systems, a complete range of drives and motors and CO2 laser solutions. FANUC FA America also offers engineering support, genuine FANUC parts, repair and factory automation solutions and training programs to machine tool builders, dealers and users. FANUC CNC systems are known throughout the world for their high reliability, high precision, high speed and simple operation.

FANUC FA America headquarters is located in Hoffman Estates, IL and supports 43 offices and service centers throughout U.S., Canada, Mexico, Brazil and Argentina.

For more information, contact FANUC FA America, 1800 Lakewood Boulevard., Hoffman Estates, IL 60192, phone: 888-FANUC-US (888-326-8287), e-mail: fanuc.marketing@fanucfa.com, website: www.fanucfa.com.

PR contact:
Jill Jozwik
Marketing Manager
FANUC FA America
T: 847-898-5673
E: jill.jozwik@fanucfa.com