OPA388 Operational Amplifier offers zero-drift and zero-crossover technology.
Press Release Summary: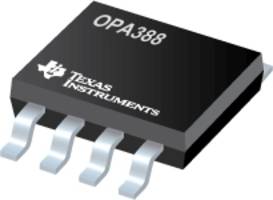 OPA388 Operational Amplifier eliminates temperature drift, flicker noise and offset errors to produce high DC precision, linear output and true rail-to-rail input operation. OPA388 enables high gain configurations with harmonic distortion of -132dBc and 7nV/√Hz voltage noise. Delivering 5µV offset voltage and offset voltage drift of 0.005μV/°C and 700pA maximum input bias current, unit is operated in -40°C to 125°C temperature range.
---
Original Press Release:
Achieve True Precision with the Industry's First Zero-drift, Zero-Crossover Operational Amplifier
TI packs precision and high input linearity into a single high-performance device
Continuing to set the standard for precision amplifiers, Texas Instruments (TI) (NASDAQ:TXN) today introduced the first operational amplifier (op amp) to offer both zero-drift and zero-crossover technology. The OPA388 op amp maintains high precision across the entire input range for a variety of industrial applications, including test and measurement, medical and safety equipment, and high-resolution data-acquisition systems. For more information, visit www.ti.com/opa388-pr.
The unique architecture of the OPA388 produces an industry-leading combination of ultra-high input linearity and precision. TI's zero-drift technology eliminates temperature drift and flicker noise to attain the highest DC precision and dynamic error correction, while its zero-crossover topology eliminates offset errors caused by common-mode limitations to achieve linear output and true rail-to-rail input operation.
Key features and benefits of the OPA388 op amp
Delivers true precision with ultra-high input linearity: The device's zero-crossover topology eliminates the input offset transition region of traditional complementary metal-oxide semiconductor (CMOS) op amps, assuring maximum linearity and minimal distortion across the entire common-mode input range.
Provides high DC precision: TI's zero-drift technology delivers a low maximum offset voltage of 5 µV, a typical offset voltage drift of 0.005 μV/°C and a maximum input bias current of 700 pA over the extended industrial temperature range of -40°C to 125°C. This eliminates the need for costly over-temperature calibration and increases DC precision.
Supports wide-bandwidth operation: With a 10-MHz gain bandwidth product (GBW), the OPA388 enables high gain configurations and makes it possible to acquire a wide range of signal types and frequencies to support equipment from precision weigh scales to heart-rate monitors.
Maintains low distortion for high performance: The ultra-low total harmonic distortion of -132 dBc and voltage noise of 7 nV/√Hz help produce a high-resolution signal chain for specialized applications such as programmable logic controllers, precision field transmitters and motion-control equipment.
Reduces complexity and cost: Merging zero-drift and zero-crossover technology reduces signal-chain complexity and external component count, allowing designers to minimize board space and bill of materials (BOM) cost.
Tools and support to jump-start design
TI offers a range of support tools for designers using the OPA388, including a reference design that demonstrates how to use the precision op amp to eliminate crossover nonlinearity in digital-to-analog converters. The reference design uses the DAC8830 precision data converter and REF5050 voltage reference, which combine to create an accurate DC calibration system for high-precision applications for wireless infrastructure and test and measurement.
Package, availability and pricing
The OPA388 is available now through the TI store and authorized distributors. It is priced at US$0.98 in 1,000-unit quantities and comes in a 4.9-mm-by-3.9-mm small-outline integrated circuit (SOIC) package.
Learn more about TI's amplifier portfolio
About Texas Instruments
Texas Instruments Incorporated (TI) is a global semiconductor design and manufacturing company that develops analog integrated circuits (ICs) and embedded processors. By employing the world's brightest minds, TI creates innovations that shape the future of technology. TI is helping more than 100,000 customers transform the future, today. Learn more at www.ti.com.
CONTACT:
Kristina Atkins,
Texas Instruments,
214-567-8480,
More from Machinery & Machining Tools