Op Amps suit handheld and battery-powered applications.
Press Release Summary: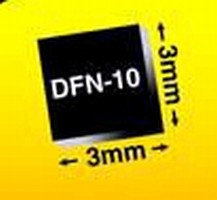 Housed in tiny DFN package, Models LT6001 and LT6002 are 1.8 V dual and quad operational amplifiers that draw 13 µA each. Input offset voltage is 500 µV max at 25°C with max drift of 5 µV/°C over temperature. Inputs and outputs feature rail-to-rail operation. Model LT6001 also includes shutdown pin, allowing current consumption to drop to 1.5 µA max when not in use.
---
Original Press Release:

First 1.8V Dual & Quad Op Amps in DFN Packages



MILPITAS, CA - February 28, 2006 - Linear Technology Corporation introduces the LT6001 and LT6002, the industry's first 1.8V dual and quad operational amplifiers available in a tiny DFN package. These micropower devices draw only 13uA per amplifier and have excellent performance characteristics. Input offset voltage is 500uV max at 25°C with a maximum drift of 5uV/°C over temperature. Inputs and outputs feature rail-to rail-operation.

This combination of low supply voltage, low current consumption and excellent DC specifications in a tiny DFN package make these parts ideal for handheld and battery-powered applications.

For even greater power savings, the dual LT6001 in 3mm x 3mm package also includes a shutdown pin, allowing current consumption to drop to 1.5uA max when not in use. "The LT600x family pushes the envelope for combining precision, low power and high density," says Erik Soule, general manager of Linear Technology's Signal Conditioning product group. "This feature set is highly desirable in portable medical and industrial instruments."

The LT6001 and LT6002 are available now with prices starting from $1.25 and $2.00 each in 1,000-piece quantities.

Summary of Features: LT6001 & LT6002
Ideal for Battery-Powered Applications
- Low Voltage: 1.8V Operation
- Low Current: 16uA/Amplifier Max
- Small Packages: DFN, MSOP, SSOP
- Shutdown to 1.5uA Max (LT6001DD)
Low Offset Voltage: 500uV Max
Rail-to-Rail Input and Output
Fully Specified on 1.8V and 5V Supplies
Operating Temperature Range: -40°C to 85°C

Available in 10-Lead & 16-Lead DFN, 8-Lead MSOP & 16-Lead SSOP Packages

Company Background
Linear Technology Corporation, a manufacturer of high performance linear integrated circuits, was founded in 1981, became a public company in 1986 and joined the S&P 500 index of major public companies in 2000. Linear Technology products include high performance amplifiers, comparators, voltage references, monolithic filters, linear regulators, DC-DC converters, battery chargers, data converters, communications interface circuits, RF signal conditioning circuits, and many other analog functions. Applications for Linear Technology's high performance circuits include telecommunications, cellular telephones, networking products such as optical switches, notebook and desktop computers, computer peripherals, video/multimedia, industrial instrumentation, security monitoring devices, high-end consumer products such as digital cameras and MP3 players, complex medical devices, automotive electronics, factory automation, process control, and military and space systems. For more information, visit www.linear.com.

LT and LTC are registered trademarks of Linear Technology Corp.

North America and General Information
John Hamburger
Tel: (408) 432-1900 ext. 2419
jhamburger@linear.com

Doug Dickinson
Tel: (408) 432 1900 ext. 2233
ddickinson@linear.com

More from Computer Hardware & Peripherals