Onsite Test Kit ensures biodiesel is on-spec.
Press Release Summary: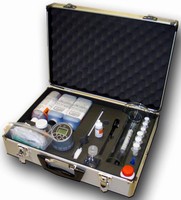 Provided in aluminum case for portability, kit contains all equipment, reagents, and consumables needed for onsite testing of biofuel to ASTM D6751. Solution produces actionable results in minutes, relaying water content, density, viscosity, total acid number (TAN), and acid content. Suited for biodiesel manufacturers, end-users, and bulk purchasers, kit is designed to complement laboratory test results and give critical assessments when needed most.
---
Original Press Release:

At Last - An Onsite Biodiesel Test Kit



As you will undoubtedly be aware the worldwide market for green and renewable fuels is set to expand rapidly over the next 10-15 years. Since 2001 the worldwide production of biodiesel has more than trebled and is reported to be on target to grow more than 30% from 2006 and exceed the 12 billion litres produced mark by 2010.

The uncertainty surrounding Biodiesel is huge. Is the Feedstock ok? Is the end product on spec? Have I really got what the manufacturer tells me? are just a few of the questions you may ask. Laboratory testing to ASTM D6751 is a surefire way of ensuring the Biodiesel is on spec. But it's not cheap and will certainly not give you instant results when and where you need them the most.

The introduction of an onsite Biodiesel test kit is great news for all biodiesel users and manufacturers. In just minutes Kittiwake's Biodiesel Test Kit will give you actionable results.

Biodiesel manufacturers can ensure the quality of the base stock used at the time of delivery, save money by optimising the ratio of chemicals used, refine and trouble-shoot the manufacturing process and ensure the quality and consistency of the end product.

End users and bulk purchasers can ensure the quality of the biodiesel at the time of delivery whilst monitoring the consistency of the biodiesel from batch to batch and even check stored biodiesel for any deterioration over time.

The Kittiwake Biodiesel test kit allows users to rapidly determine:
· Water Content (of stock oils and biodiesel)
· Density (of biodiesel)
· Viscosity (of biodiesel)
· Total Acid Number (TAN) (of biodiesel)
· Acid Content (of stock oils, for catalyst optimisation)
· Visual Quality Check (Qualitative check of biodiesel)

Just like Kittiwake's current fuel and lubricant product offering, the Biodiesel Test Kit is designed to complement laboratory test results, reduce the frequency of laboratory analysis required and give critical results when needed the most. Coming in a handy sized aluminium case for complete portability the test kit contains all the equipment, reagents and consumables needed for your onsite test regime.

For more information on the range of oil analysis tools, visit www.kittiwake.com

For further information, please contact:
written by Paul Froome
Marketing Manager
Kittiwake Developments Ltd
Email: paulf@kittiwake.com
Tel: +44 (0) 1903 731470
Fax: +44 (0) 1903 731480

More from Machinery & Machining Tools