Onset Now Offers NIST RH Calibration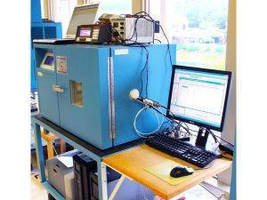 Access Your Data via Mobile Device using the HOBOmobile® App!



CHESTERLAND, OH —



CAS DataLoggers is pleased to announce that effective immediately, Onset now offers testing and certification of HOBO data logger and sensor RH (relative humidity) accuracy using standards traceable to the U.S. National Institute of Standards Technology (NIST). This includes Single-point (50% RH @ 25°C) or Three-point (25, 50, 75% RH @ 25°C) NIST certification. You can also view our Onset selection at http://www.dataloggerinc.com/manufacturers/Onset/113/.



RH NIST Testing:



For each data logger certified, a certificate is provided showing the device's RH and temperature accuracy vs. a NIST-traceable standard. Certification is available for all models of currently manufactured Onset data loggers and sensors.



The temperature value used for RH certification is fixed at 25°C and is verified against a NIST-traceable 200-ohm platinum RTD (resistance temperature detector).



Customers also receive a Certificate of Accuracy showing the device's RH and temperature accuracy vs. a NIST traceable standard. This service is only available for HOBO data loggers and sensors still being manufactured.



RH NIST certification is a single line item on your order. There is no need for separate line items for setup and per-test-point charges as there is with temperature NIST



HOBO Family Dataloggers:



Onset products are useful for several different applications including temperature monitoring, energy monitoring, tracking building performance, and more. 



At CAS DataLoggers we stock Onset HOBO models which monitor:





Temperature/Thermocouple sensors



Humidity/Relative Humidity



Temperature Humidity simultaneously



Light On/Off status



Building Performance



Plug Load



Motor On/Off status



Pulse



And more…



Onset manufactures a wide variety of HOBO data loggers which fit into any budget. These models are compact and durable for installation in many different settings. Some models utilize an internal sensor, while an analog model allows flexible connection with external sensors. For ease of use, these products all operate using the same software.



Free Software HOBOmobile App:



Onset HOBOware software supports all HOBO data loggers and is available free for download:




Simple menus for new users enables quick logger setup



and readout;



Scaling to real-world engineering units;



Presentation-quality graphs;



Easy export of data files to text or Excel format.



Now for users who need a wireless solution, Onset's free HOBOmobile® app handles logger setup and data management. HOBOmobile® allows you to access data anytime from your iOS mobile device over a 100-foot range, and it requires no dedicated equipment beyond an iOS device for configuring the logger or reading out data. Users can view data in graphs, check the operational status of loggers, configure alarm notifications, and share data files.



The Data Logger Experts:



CAS DataLoggers now offers the bestselling Onset HOBO family of dataloggers. Complete with free software, HOBO data loggers are priced from just $75 and up, ideal for customers who need to monitor one or more values at a low price point. Just call our Applications Specialists at (800) 956-4437 or visit our Online Store at http://www.dataloggerinc.com/datalogger_store/store/category/onset/.



For more info on Onset HOBO Data Loggers, or to find the ideal solution for your application-specific needs, contact a CAS Data Logger Applications Specialist at 800-956-4437 or visit our website at www.DataLoggerInc.com.



Contact Information:

CAS DataLoggers, Inc.

8437 Mayfield Rd.

Chesterland, Ohio 44026

440-729-2570

800-956-4437

sales@dataloggerinc.com

www.dataloggerinc.com 

More from Software