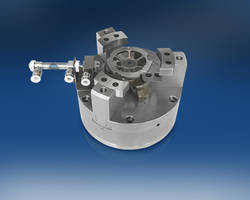 Island Park, NY... Northfield Precision Instrument Corporation is a leader in the design and manufacture of precision workholding chucks. A customer came to Northfield to design a chuck that would allow their precision sprocket to be positioned in the chuck only one way in order to assure a properly timed gear part. It would have to work with a range of gear diameters. Northfield's engineers customized their NF-650 air chuck with special tooling to meet these requirements. These modifications consist of a locating ring to ensure one-way loading. A custom axial locator, with air detect seat sensor holes, guarantees positive part seating. The custom top tooling also includes an adjustable air-actuated orientation key to time the work piece off of gear teeth. The orientation key supports air detection as well, to ensure part engagement. Custom designed and dedicated sub-jaws are ground to accept changeable inserts for a range of gear diameters. Inserts can be easily changed out and still repeat to .0001'' TIR. Problem solved!
Northfield Precision Instrument designs and manufactures the world's most accurate air chucks for any lathe, boring machine, grinder or VMC. Models include through-hole, high-speed and quick-change. Chucks are available in SAE or metric, in sizes from 3" (76mm) to 18" (457mm). Accuracies of 0.001" to 0.00001" (0.254m) are guaranteed. Custom workholding chucks and jaws are available and FREE engineering assistance is offered.
For more information, please contact
Northfield Precision Instrument Corp.
Call Toll Free 1-800-810-2482
Fax (516) 431-1928
Email: info@northfield.com.
More from Cleaning Products & Equipment