Online Vibration Monitoring System lowers maintenance, downtime.
Press Release Summary: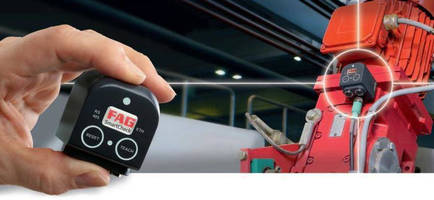 Used for continuous, real-time monitoring of plant, machinery, and process parameters, FAG SmartCheck promotes equipment reliability and efficiency while preventing breakdowns. Plug-and-play system is modular and allows continuous monitoring on decentralized basis. Condition of machinery is shown in FAG SmartWeb, and information is also available on long-term machine condition via integrated data memory. All parameters can be correlated with each other and included in alarm configuration.
---
Original Press Release:

Simple Cost-Efficient New FAG SmartCheck Online Vibration Monitoring Lowers Maintenance Costs and Avoids Downtime



FAG SmartCheck



A compact, robust and easily installed online measuring system is being introduced by Schaeffler Australia Pty Ltd for the continuous real-time monitoring of plant, machinery and process parameters to enhance equipment reliability and efficiency while avoiding costly breakdowns.



FAG SmartCheck vibration monitoring technology comprises an innovative, modular online measuring system for continuous monitoring on a decentralised basis to optimise productivity and overall process management. It can be used on assemblies where such monitoring was previously cost prohibitive, says Schaeffler Australia Pty Ltd Industrial Sector and Product Manager Mr Martin Grosvenor.



The intuitively operated and expandable technology – backed with comprehensive service throughout Australia and New Zealand – is suitable for early detection of rolling bearing damage, imbalances, and misalignments, among other faults, on diverse machinery and plant. Machinery to which it applies includes electric and geared motors, gearboxes and compressors, vacuum and fluid pumps, ventilators and fans, spindles and machine tools, separators and decanters and vibrating screens.



"FAG SmartCheck demonstrates that vibration monitoring does not have to be complicated or expensive. As a flexible solution, FAG SmartCheck technology adjusts readily to user demands and reliably fulfils even complex requirements," says Mr Grosvenor. "The technology offers the performance features of expensive systems, but is compact in design, easy to fit and simple to use. The system can be expanded on a modular basis at any time. Where requirements change, retrofitting can also be carried out at any time."



Features and benefits of FAG SmartCheck include:



• Comprehensive information on machine condition, taking account of process parameters such as load, pressure and flow rate

• Condition of machinery shown at a glance in FAG SmartWeb

• Information available on the long term development of machine condition by means of the integrated data memory

• Connection to control room or controller by means of interfaces

• Reliable alarm system by means of alarm threshold adjustment applied for as a patent

• Direct system access via Ethernet and Web interface

• Protected data by means of a multistage access concept

• Free of charge app for smartphones

• Complete service for rolling bearings and for machinery diagnostics



LEFT 1 Status LED, red, yellow, green 2 Membrane key, alarm reset 3 Membrane key, activate teach mode 4 Interface: Ethernet, power supply, PoE 5 Interface 6 RS485, power supply 6 Interface: inputs and outputs, analogue and digital RIGHT Smartphone as alarm receiver



PLUG AND PLAY SYSTEM



FAG SmartCheck is ready for immediate use as delivered. As supplied, it already has a set of key data that facilitate general, reliable machinery monitoring. In addition, predefined configuration templates are available for monitoring of items such as fans, pumps and bearings. These can easily be matched to individual requirements, using the integrated bearing database of FAG and INA standard bearings, providing a data configuration which facilitates a more comprehensive and simpler analysis.



As well as the standard parameters of vibration and temperature, it is possible to record other classic operating parameters such as speed, pressure, flow rate etc. All parameters can be correlated with each other and included in the alarm configuration.



The data is recorded and analysed centrally by the system. The current machine condition can be displayed directly on the device or transferred to any control facility as required.



For more precise monitoring, a component template stored in the device can be selected for applications such as fans or pumps. The component template is filled with the component data. The device has an integrated rolling bearing database containing data for FAG and INA standard bearings. The user can add further rolling bearings to the database at any time.



THREE-STAGE MONITORING



Monitoring using FAG SmartCheck can be carried out in three stages. In the first stage, individual machines are monitored on a decentralised basis. If the user selects the second stage, the device is intelligently integrated in the machine controller. In the third stage, the service is provided from a single source by an external service provider. This can include remote access via an Internet connection as well as advice and other services



SERVICE, STAFF TRAINING AND REMOTE MOTITORING



FAG SmartCheck technology is backed by comprehensive service in Australia and New Zealand, with research and bearing application and maintenance training from Schaeffler operations established for more than 35 years Down Under. Schaeffler Australia expertise is focussed on diverse Australasian industries including mining, energy, oil and gas, construction, manufacturing, food and beverage machinery processing,  metalworking, materials handling, conveying, agricultural and primary processing including paper, sugar, dairy and meat processing.



Schaeffler offers extensive services in support of FAG SmartCheck, ranging from strategy development through commissioning to remote monitoring.



During commissioning in partnership with users, optimum monitoring strategies are determined, devices are mounted and reference measurements are carried out. Employees are trained in accordance with their prior knowledge and requirements, including handling of the device and use of the software.



Schaeffler Australia offers its experience to complement on-site expertise at any time. For example, company experts can assist in the assessment of measurement results. If the measurement results indicate any damage, they can provide advice on further action.



Remote monitoring is available from Schaeffler Australia where trained employees are not present on site. Where Schaeffler is tasked with remote monitoring, the customer receives regular reports on the machine condition and recommended actions for improving plant availability. If FAG SmartCheck detects incipient damage, the customer is informed immediately. Repair can then be planned and replacement parts sourced so as to avoid downtime and lost production.



Schaeffler Brands



The Schaeffler Group's INA, FAG and Luk brands stand for the development and manufacture of high-quality rolling bearings, plain bearings, linear guidance systems, and engine components for mechanical engineering, aerospace and the automotive industry worldwide.



Collectively Schaeffler brands' broad range of products is among the most comprehensive in the rolling bearing industry. Schaeffler can supply products for applications in around 60 industrial sectors and numerous automotive applications with approximately 40,000 volume produced catalogue products. In addition, the company develops with its Australasian and global customers a wide variety of special solutions with which complex tasks involving bearings can be managed reliably and economically. This means Schaeffler's Industrial Division alone can supply nearly 225,000 products.



Further, the company offers in Australasia and globally a wide range of services including support, diagnostics, and maintenance and assembly for rolling bearings and systems.



For further information, please contact Mr Mark Ciechanowicz, Industrial Services Manager, Schaeffler Australia Pty Ltd, Level 1, Building 8, 49 French's Forest Road, French's Forest, NSW 2086 Tel: +61 2 8977 1058 • Mobile: +61 (0) 418 899 194 • Fax: +61 2 9452 4242 Mark.Ciechanowicz@Schaeffler.com   www.schaeffler.com.au



For further information about this media release, please contact Whyte Public Relations Pty Ltd, Sydney, Australia, whyte@bigpond.com, ph 61 2 9449 9329, fax 61 2 9439 9190

More from Agricultural & Farming Products