Online Service delivers remote file server access for SMBs.
Press Release Summary: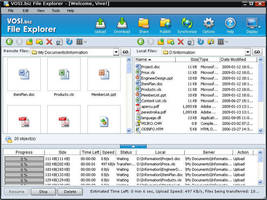 Designed to provide IT infrastructure for SMBs and home-based offices, VOSI.biz File Explorer v1.2 uses Windows Explorer interface to provide integration of local files and remote files and allow users to transfer, access, share, and synchronize files online. MagicUpload technology speeds data transfer, and system supports HTTPS/SSL for uploading and downloading while also supporting data encryption folder where files can be automatically encrypted locally using private encryption key.
---
Original Press Release:

VOSI.biz Launches a New Version Remote File Server Product for Small Businesses - File Explorer 1.2



Mar. 1, 2009, VOSI.biz (www.vosi.biz), the leading cloud-based Virtual Office, Virtual Server and Virtual IT service provider announced a newer version of VOSI.biz File Explorer, the flagship product for remote file server access.

VOSI.biz File Explorer makes Remote File Server as easy as your local file server. With the familiar Windows Explorer interface and seamless integration of your local files and remote files, it lets you transfer, access, share and synchronize files online with unprecedented easiness and reliability. The product is designed for small businesses and home-based offices who don't have the expertise or budget to setup a necessary IT infrastructure. With VOSI.biz File Explorer, small business users can access document files remotely from anywhere, they can also securely share files and folders among colleagues, friends and clients remotely. VOSI.biz File Explorer is available for free download at: http://www.vosi.biz/Downloads/DownloadFileExplorer.aspx

Version 1.2 File Explorer has made more improvements on the system performance and is now extremely reliable. It has also added automatic backup feature for folder synchronization. The main features include:

o Faster upload/download speed. It can be several times faster than regular FTP or HTTP using compression; upload can be lightening fast with MagicUpload technology.

o Automatically sync folders among multiple PCs and users. It now supports real-time and scheduled synchronization; one-way or two-way synchronization; sync folders with file/folder name filters and automatically backup sync-deleted files.

o Supports group and sub-groups. It can support any number of sub-users! When sharing files, permissions can be set based on individual users or sub-groups/contact-groups.

o Upload any size files. It can upload a single file as large as 8GB or bigger and as many as millions of files.

o High security. It supports HTTPS/SSL for uploading and downloading; it also supports data encryption with encrypted folder. Files can be automatically encrypted locally using your private encryption key. It stays encrypted on server, making it extremely hard for anyone to decrypt it.

o All regular file server / file management features: create, delete, rename, copy, cut, paste, drag & drop, etc.

o Share folders with different levels of permissions; share different folders to different users with different levels of permissions; share one folder multiple times to different users with different levels of permissions.

o Automatically resume broken downloads / uploads from the point of interruption;

o Highly efficient file caching. It supports advanced caching technology. File-access can be super fast when it is cached. It can also be accessed offline if it is cached.

o International language support with Unicode. VOSI.biz File Explorer can be used in any language environment.

About VOSI.biz:

Based in Lewes, Delaware, USA, VOSI.biz (www.vosi.biz) is the leading company offering a complete cloud-based "Basic IT System" Service. Our products and services include Remote File Server, Email Server, Offsite Data Backup, FTP Server & Web Server, Online Storage, Sharing & Collaboration, etc. Almost all businesses need such a "Basic IT System". VOSI.biz service can save 90% of cost on IT systems for small businesses. For more info or sales, please visit: http://www.vosi.biz/

Related