Storage, Shipping and Disposable Boxes
Online Packaging Distributor Now Offering Stock Cardboard Boxes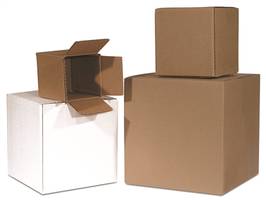 Discount Packaging Depot.com announces addition of more than 1,000 stock boxes to enhance its packaging product portfolio.
(Lake Worth, FL – March 25, 2017) – Discount Packaging Depot.com (www.discountpackagingdepot.com), an online distributor of packaging, warehousing and shipping supplies today expanded its product line by more than 1,000 items with the addition of stock corrugated boxes. This is part of an on-going top-to-bottom, customer-centric overhaul of the company's product offering.
Commenting on the expansion, company founder Barry Kronhaus said: "When we started, it was all about packaging machines like pallet wrappers, carton sealers and shrink wrap sealers. But our customers continue to demand more. Last year we added carton sealing tape and poly bags. The market for purchasing stock boxes online is huge making it a logical next step. Currently we can ship from warehouses in Chicago, Dallas and Philadelphia. We are working hard to add Atlanta before the end of the year which will give us a huge advantage in the Southeast."
Kronhaus went on to say, "Everyone wants to save time. Ordering more products from one trusted source means fewer processing fewer purchase orders, shipments and invoices and payments. Through steady growth, we will ultimately offer the same products and convenience as the big packaging catalog houses but with better customer service and a simpler pricing structure. It's an unbeatable combination."
About Discount Packaging Depot
Discount Packaging Depot is an online supplier of machinery and materials for packaging, warehousing and shipping. Discount Packaging Depot differentiates itself in the market by offering internet clients local-style, personalized service and support. Discount Packaging Depot also offers its clients end-column best-price regardless of order quantity. To learn more about Discount Packaging Depot's products and philosophy on internet sales, please visit www.discountpackagingdepot.com.
Contact:
Barry Kronhaus,
Discount Packaging Depot
855-373-7225
barry@discountpackagingdepot.com
More from Paints & Coatings