One Pint Reservoir suits outdoor environments.
Press Release Summary: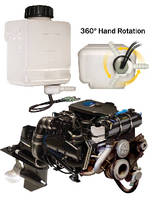 Molded in single piece of translucent polypropylene, 1 Pint Reservoir resists elements making it suited for engines in outdoor equipment, generators, and general transport. Reservoir includes single piece molded plastic float switch and hand-rotated connection cap that adapts to differing engine designs and assembly processes. Venting system in cap permits air into reservoir and allows fluid to drain, while silicon umbrella valve seals against back flow.
---
Original Press Release:

"One Pint Reservoir Suited to Outdoor Environments"



(April 1, 2009 - Manitowoc, WI) Oil-Rite Corporation has a U.S. patent pending on a 1-pint polypropylene reservoir designed for use on engines in outdoor equipment, generators, and general transport. A hand-rotated connection adapts the reservoir to differing engine designs and assembly processes. This feature can reduce engineering time and standardize a component among varying engine models, achieving efficiency and cost reductions in the manufacturing process.

The reservoir is particularly suited to the marine industry, where it can be used to store lubricant for boat engines. Polypropylene is a durable material that is resistant to the elements and has a service life that can exceed that of the engine itself. The body is molded in a single piece. The material is translucent, allowing the liquid level to be determined without removing the cap.

Another feature conducive to marine environments is the venting system in the cap. The vent permits air into the reservoir and allows the fluid to drain. A silicone umbrella valve seals against back flow. This prevents the contents from escaping and potentially contaminating waterways.

The reservoir includes a single piece molded plastic float switch. The switch can be included in an electrical circuit to alert an operator to a low liquid level or even interrupt operation of the equipment until the fluid level is replenished. The wire connectors are amp male terminal 61388-1 type A.

The reservoir was designed with the goals of reliability, ease of assembly, and serviceability. It is one of multiple products designed by Oil-Rite to specific industry requirements. Oil-Rite Corporation has designed and manufactured lubrication equipment in its U.S. plant since 1933. For more information, contact Technical Sales at 920-682-6173 or sales@oilrite.com.

For more information, please contact:

Kurt Rommelfaenger

Oil-Rite Corporation

4325 Clipper Drive

P.O. Box 1207

Manitowoc, WI 54221-1207

Telephone: 920-682-6173 Fax: 920-682-7699

www.oilrite.com

More from Mining, Oil Drilling, Refining Products & Equipment