One-Piece Clamp and Back Strap secures cable or conduit.
Press Release Summary: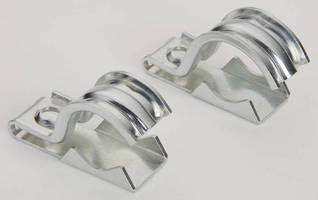 Available in ½–¾ in. (UCS-5075) and ¾–1 in. (UCS-75100) designs, Mighty-HOLD® Universal Clamp Strap meets NEC requirements and is cULus Listed. While UCS-5075 secures ½ and ¾ in. EMT, Rigid, IMC, Liquid Tight Metallic and Non-Metallic, FMC, and Schedule 40 and 80 PVC conduit, as well as .710–1.10 in. ∅ steel and aluminum AC/MC cable, UCS-75100 secures same conduit types but has ¾ and 1 in. range for EMT and .925–1.32 in. ∅ range for steel and aluminum AC/MC cable.
---
Original Press Release:
Bridgeport Introduces One-Piece Clamp and Back Strap that Secures Cable or Conduit
Mighty-HOLD® Universal Clamp Strap Saves Time and Money

STRATFORD, Conn. – Bridgeport Fittings has introduced the Mighty-HOLD Universal Clamp Strap – a one-piece clamp and back strap that secures cable or conduit, saving time and money.

The new Bridgeport solution comes in 1/2" - 3/4" (UCS-5075) and 3/4" - 1" (UCS-75100) designs. The UCS-5075 secures 1/2" and 3/4" EMT, Rigid, IMC, Liquid Tight Metallic and Non-Metallic, FMC, and Schedule 40 and Schedule 80 PVC conduit, as well as 710" Æ to 1.10" Æ steel and aluminum AC/MC cable. The UCS-75100 secures 3/4" and 1" EMT, Rigid, IMC, Liquid Tight Metallic and Non-Metallic, FMC, and Schedule 40 and Schedule 80 PVC conduit, as well as.925" ∅ to 1.32" ∅ steel and aluminum AC/MC cable.

Bridgeport's Mighty-HOLD Universal Clamp Straps meet applicable NEC requirements and are cULus Listed.

The Mighty-HOLD Universal Clamp Straps are part of Bridgeport's exclusive and innovative "Mighty-B"™ line of high-quality, high-performance products focused on getting a contractor's job "done fast, done right."
Related