One Component Elastomeric System Features Excellent Thermal Conductivity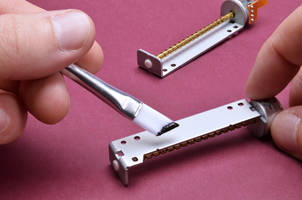 Master Bond X5TC is an elastomeric system that has a thermal conductivity of 10-12 BTU•in/ft2•hr•°F [1.44-1.73 W/m•K] while maintaining solid electrical insulation properties. This one part, no mix adhesive/sealant has a paste-like consistency and is very easy to use. It readily cures in 8-12 hours at room temperature or in 60-90 minutes at 150°F.
X5TC bonds well to many substrates including metals, glass, composites, ceramics, rubbers and plastics. Since it is elastomeric, this compound is suitable for bonding dissimilar substrates and performs well when subjected to thermal cycling, vibration and shock.
X5TC can be used in aerospace, electronic and specialty OEM applications. The service temperature range of this product is from -80°F to +250°F, although it can withstand brief exposure to temperatures as high as 350-400°F. It has good resistance to water and oils. This compound is available for use in ounces, ½ pints and pints containers.
Master Bond Elastomeric Adhesives Master Bond X5TC is a thermally conductive, electrically insulative adhesive with superior strength properties. This one part elastomeric system has convenient handling properties. Read more about Master Bond's elastomeric adhesives at http://www.masterbond.com/products/elastomeric-systems
or contact Tech Support. Phone: +1-201-343-8983 Fax: +1-201-343-2132 Email: technical@masterbond.com.
CONTACT
James Brenner,
Marketing Manager
Email: jbrenner@masterbond.com
Tel: +1-201-343-8983
Fax: +1-201-343-2132
MASTER BOND INC.
154 Hobart Street
Hackensack, NJ 07601-3922
Web: www.masterbond.com