Onboard Measurement Device is used in vehicle crash testing.
Press Release Summary: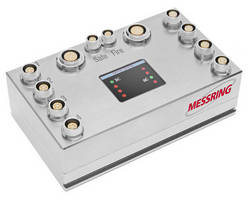 M=BUS Pro Fire and Measurement Box (FAM Box) can trigger pyrotechnic components as well as inflators for airbags or belt tensioners, where firing energy is stored in capacitor. Measuring 136 × 80 × 40 mm, test device contains 8 fully isolated channels that can fire independently. Integrated data recorder logs firing current and voltage signals at 400 kHz sampling frequency with 16-bit precision, while programmable firing current-limiting monitors check All-Fire and No-Fire criteria.
---
Original Press Release:

FAM Box - the Next Step in Test Equipment Miniaturization



Munich - MESSRING of Munich, the world's leading manufacturer of crash test systems, is the driving force behind technological development in the field of test equipment. Its proprietary M=BUS technology represents the next step in test equipment miniaturization. The latest device in its product lineup is the M=BUS Pro Fire and Measurement Box, also known as the FAM Box.

The FAM Box can trigger pyrotechnic components as well as inflators for airbags or belt tensioners, where the firing energy is stored in a capacitor. This advanced test device for crash testing comes in a small package with compact dimensions and contains a total of eight fully isolated channels that can fire independently.

A high-speed data recorder logs the firing current and voltage signals at a sampling frequency of 400 kHz with 16-bit precision. Its programmable firing current-limiting monitors check the so-called All-Fire and No-Fire criteria to ensure that the connected pyrotechnic system fires reliably when the specified electrical current strength is reached (All-Fire), and that it does not fire at all during a No-Fire condition. This is how MESSRING can guarantee top precision in monitoring the firing process and offer very fast and better evaluation for all test engineers and technicians.

Mounting the FAM Box inside or outside the vehicle is very practical and easy. All that is needed is a mounting rail, upon which all M=BUS components are mounted next to one another. The mounting rail can then be installed in the test vehicle, e.g. in the trunk space. When the supplied bracket is used, the box can be placed in a decentralized mounting location in a test object.

A key criterion for sophisticated on-board test equipment is its protection of measurement data; if this data is lost, the entire test is rendered useless. That is why the FAM Box is equipped with a backup system. An additional safety feature for preventing faulty unit triggering is a safety key, which only releases the firing energy after it is activated. The box can also withstand extreme mechanical stress; it is crash-resistant up to the application of a 1,000 G.

"Our primary focus is on continually optimizing test components so that they attain even greater precision and more reliable test results for our customers," explains Dierk Arp, CEO of MESSRING. The FAM Box is another important step towards making onboard measurement devices more compact, efficient, and safe."

Easy operability is an integral feature of all products from MESSRING; not only can the FAM Box be controlled from a simple Web browser and a PC, it can also be controlled from devices such as an iPad.

Technical Data:
- Eight individually programmable timers for firing airbags, belt tensioners, etc.
- 0 to 65 s delay in steps of 0.01 ms
- Recording of electrical voltage and current at 400 kHz
- DC and AC firing modes
- Programmable firing current limiting for monitoring of All-Fire and No-Fire criteria
- Crash-resistant up to 1,000 G
- 100 Mbit/s Ethernet interface
- User-friendly programming via Web interface
- Easy to mount on rail or bracket
- Backup system with internal battery
- Autonomous device (also independent of the M=BUS)
- Package size: 136 × 80 × 40 mm
- Weight: 0.38 kg

About MESSRING
MESSRING Systembau GmbH of Munich is the world's leading manufacturer of crash test systems and components. The mid-size company designs and builds turnkey test systems for customers in all relevant markets and on nearly all continents. To date, MESSRING has implemented over 90 large crash test systems for automotive OEMs, insurance companies, and governmental facilities - more than any other company. In the process, the global market leader continues to astonish the field time and again with innovative advances and revolutionary new solutions, whether in system design, the actual measurement equipment, or in documentation and recording of individual tests.

For more information, go to www.messring.de.

Press Contact:
Enno Hennrichs
Talk of Town. Wächter & Wächter
Lindwurmstrasse. 88, 80337 Munich
Phone +49-89-747-242 ext. 39, fax ext. 60
e.hennrichs@waechter-waechter.de
www.talkoftown.de
www.twitter.com/talkoftown.de
www.facebook.com/talkoftownpr

More from Machinery & Machining Tools