On-Site Sodium Hypochlorite Generator is reliable and safe.
Press Release Summary: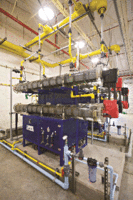 Available as component-based or skid-based packaged systems, ClorTec® on-site sodium hypochlorite production systems generate 0.8% sodium hypochlorite disinfection solution using salt, water, and electricity. Simplified instrumentation and rack design facilitate operation and maintenance, and each cell is vented for safe, efficient operation. Available capacities range from 2–3,000+ lb/day, and design reduces production of disinfection byproducts.
---
Original Press Release:
De Nora Water Technologies Announces Improvements to ClorTec® On-Site Sodium Hypochlorite Generation Systems
ClorTec systems have been a proven, cost-effective, reliable and safe alternative to chlorine gas and bulk sodium hypochlorite since 1995.

MILAN – De Nora Water Technologies,a world leader in the field of electrochlorination disinfection technology, has announced a new generation of its ClorTec® on-site sodium hypochlorite production systems. The new ClorTec systems feature simplified instrumentation and a new rack design for ease of operation and maintenance. Each of the systems' cells is now vented for safe, efficient operation. And the new systems consume less salt and power than competing electrochlorination systems.

According to John Dyson, commercialization manager, electrochlorination and filtration for De Nora Water Technologies, "In designing the enhanced ClorTec systems, we listened to our customers, who still require the quality and reliability we've traditionally delivered for 20 years, along with systems that are easier to operate and maintain. This was a challenge we successfully met together with De Nora Electrode Technologies' support in re-engineering the systems and by utilizing their patented coatings that enable ClorTec systems to deliver high efficiency and low power consumption. And our systems are covered by a performance guarantee."

"De Nora pioneered DSA® insoluble anodes, and invented modern electrochlorination, a technology that permits the on-site generation of sodium hypochlorite, back in the seventies," Dyson said. "Our proprietary electrodes provide for an effective, long-lasting and environmentally friendly solution for on-site oxidant generation."

ClorTec systems generate a 0.8% sodium hypochlorite disinfection solution, a chlorine equivalent, using only salt, water and electricity. ClorTec units range in capacity from up to 1 kg/day or 2 lb/day to 1,360+ kg/day or 3,000+ lb/day. To meet varying application-specific conditions, the ClorTec units are available as component-based or skid-based packaged systems.

On-site sodium hypochlorite generation is a proven, cost-effective, reliable and safe alternative to disinfection using chlorine gas or bulk sodium hypochlorite. On-site generated sodium hypochlorite is stable and easy to feed. Additionally, less chlorine is released to the atmosphere because of better mixing and retention in the treated water. ClorTec systems can reduce a customer's carbon footprint and salt consumption by as much as 20 percent. The systems, thanks to their specific process and the use of specially formulated anode coatings, reduce the production of disinfection byproducts, helping to provide water that is free of pathogens and safe to drink.

About De Nora Water Technologies
De Nora Water Technologies provides a range of trusted disinfection and filtration technologies and aftersales support services for water and wastewater treatment in the energy, marine and municipal markets worldwide. With more than 50 years' experience in water treatment, the company has developed, delivered and installed thousands of installations worldwide across a variety of applications. De Nora Water Technologies combines leading R&D capabilities with water treatment engineering expertise to continuously improve and broaden its technology offering portfolio. De Nora's brands and its Water Technologies portfolio are recognized worldwide for their contribution to water treatment operators in providing a safe source of water and wastewater.

About De Nora
With nearly €500 million in annual turnover, 12 engineering, manufacturing and assembly centres and more than 1,600 employees worldwide, De Nora has been recognized as a leader in electrochemical technologies since 1923. De Nora's products, systems and technologies, boosted by continuous investments in R&D, have been adopted in a variety of industries and applications - from chlorine, chlorate and sodium hypochlorite production to water and wastewater treatment; from surface finishing and cathodic protection to metal winning and metal recovery; from systems for sanitization of surfaces to equipment for agri-food and advanced oxidation processes. For more information, please visit www.denora.com.

For more information:
Fran House
+44 1827 266 069
fran.house@denora.com
More from Agricultural & Farming Products