On PM 2.5 Filters, Let's Just Clear the Air Between Us; Ok?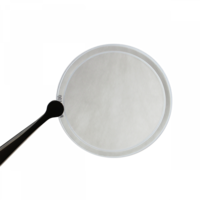 In the area of a former military building complex in the Chaoyang District of Beijing is a unique and thriving artistic community. In the middle of this art district, is a strange 7-meter tall tower shaped like an avant-garde metallic pineapple. Designed by Dutch artist Daan Roosegaarde, it is both an artistic creation and a functional tool meant to test a possible solution for Beijing's worsening air pollution. The tower is a giant silver-colored ionizer and particulate trap designed to pull in and hold tiny pollutants, known collectively as PM 2.5's. The tower works by releasing charged ions into the air nearby, causing the PM 2.5 particles to become trapped on the metallic fins as they are pulled from the air.
While it appears the sculpture is capturing quite a bit of particulate, the full data on its effectiveness is not yet confirmed; it seems there may be too much pollution for it to reduce air pollution except in the immediate vicinity. However, it does also remind people to think about the effects of air pollution and exactly what makes up these PM 2.5 particles.
PM 2.5 particles are so named as they are smaller than 2.5 microns in size, and represent a significant health risk to people. To compare sizes: human hair is about 100 microns across, and red blood cells are 8 microns across. PM 2.5s can travel deep into and lodge in the furthest parts of the human lung, putting people at elevated risk for respiratory and cardiac illnesses. Air pollution alone is estimated to cause about 7 million deaths annually across the globe, according to the WHO. Areas undergoing significant economic growth and rapid industrialization are seeing the worst of these effects; heavily industrialized areas like Beijing, Delhi, Karachi, and Dhaka are breathing some of the dirtiest air around.
In addition to the potential respiratory and cardiac effects, new research from the University of Washington suggests that poor sleep is also a consequence of PM 2.5 air pollution. The highest levels of PM 2.5s increased the odds of poor sleep by nearly 50 percent in one study group. Researchers also found the more participants were exposed to air pollution, the more hours in a day they spent awake.
To help combat this sooty foe, a small filter is used to analyze air quality and has an easy name to remember - the PM 2.5 filter. PM 2.5 filters are a special type of high-purity polytetrafluoroethylene (PTFE) membrane filter designed to capture these particulates in standard EPA test methods for monitoring air quality, and Sterlitech is now offering these filters to users in the industrial hygiene and workplace safety fields.
PTFE is normally a very flexible material when made into a thin membrane, so these filters have a strong and rigid polypropylene support ring, enabling ease of handling and use. The PM 2.5 filters have a pore size rating of 2.0 microns, and are tested to conform to the EPA requirement of DOP particle capture efficiency of 99.7% or better. Each membrane filter is sequentially numbered to aid with traceability of test results. The low tare mass allows for accurate gravimetric measurements. No glues or adhesives are used in making the membrane filters; the resulting stable design eliminates curling and keeps the filters flat and uniform, allowing for automation. To order the PM 2.5 filters, or get technical information, please contact Sterlitech Corporation at sales@sterlitech.com or 877-544-4420.
Sterlitech Corp.
22027 70th Ave. S.
Kent WA 98032-1911
Phone: 253-437-0844
More from Mechanical Power Transmission